Adding Facebook competitor analysis tools to your marketing arsenal can drastically improve things for your agency or brand. After all, Facebook is the biggest social media channel in the world with over 2.8 billion active monthly users.
If you utilize the right marketing tools and tactics, you can potentially increase your reach and engagement in your campaigns and BAU (business as usual) content. But why do you need to perform Facebook competitor analysis and which tools should you use to measure and report on your performance?
To help you with it all, we've put together this list of the best Facebook competitor analysis tools for 2022.
Why Should You Do Facebook Competitor Analysis?
Whether you're just starting out on Facebook or are an established brand, it's essential to look to your competitors for tips and strategies.
Your Facebook competitors are likely vying for the same audience as you. In fact, if you're just getting started, they're already reaching your target audience.
So, it's highly likely that the strategies they're using to reach their target audience would work for you as well. This is a major reason why you should be leveraging Facebook competitor analysis. It would help you discover the strategies of your competitors.
Competitor analysis can also help you save on your budget as you'd be able to use tried-and-tested strategies of your competitors that can drive results. You could further optimize these and improve your results.
Now that you know why Facebook competitor analysis is important, let's take a look at the best Facebook competitor analysis tools.
Best Facebook Competitor Analysis Tools
Competitor analysis on Facebook is important. However, the way you do it is equally important. For starters, you could manually track your competitors. But it wouldn't be very effective.
You can only see a few metrics manually. Also, the process is time-consuming and you can only track a handful of competitors with this method. It's also very error-prone.
Facebook competitor analysis tools, on the other hand, give you the capability to easily track lots of competitors (even into the hundreds, or thousands!). These powerful tools can also enable you to dive deep into all the social media metrics to give you detailed competitive intelligence. So, let's take a look at the various Facebook competitor analysis tools you can leverage.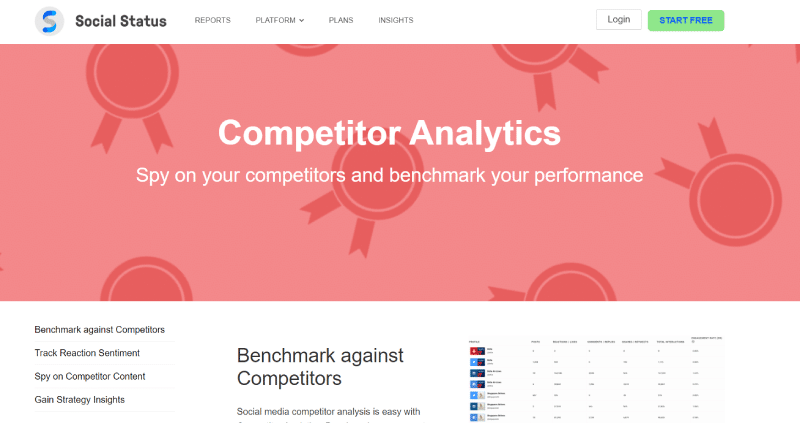 Social Status is a powerful social media marketing tool that comes with Facebook competitor analysis capabilities. Using it, you can easily benchmark engagement against your competitors on multiple social platforms. These include Facebook, Twitter, Instagram, LinkedIn and YouTube.
Social Status also allows you to track the sentiment of your audience and that of the competitors based on the types of reactions used by the audience.
Key Features
Benchmarking based on tagging in comments and emoji usage
Detailed analytics of competitors' posts including impressions and engagement rate
Ability to sort competitor content based on metrics like engagement, comments, likes, etc.
Possible to understand competitors' strategies based on content analysis
Helps understand the different content formats used by competitors
Pros
Easy to identify which sort of posts work the best
Helps find optimal posting frequency
Can discover themes and topics for better engagement
Comes with a suite of social media tools
Free version available
Cons
Report credits aren't available in the free version
Tool Level
Easy to use
Usability
Beginner to Advanced
Pricing
Free version available
Starter: $29/month
Pro: $199/month
Business: $399/month
Corporate: $599/month
Enterprise: $1,499/month
BigSpy is a Facebook competitor analysis tool that's specifically designed for social media ads. It boasts of a massive database of over 1 billion ads and supports over 6 major social networks, including Facebook.
Using it, you can easily discover the latest ads being used by other businesses in your niche and get ideas for your ads. Its powerful search features help you find and filter out ads based on a variety of factors such as countries, industries, CTA, date, and more.
Key Features
Daily trending ads
Powerful filters like engagement, language, and marketing objective
Ability to select how old the ad is
Can sort ads based on a variety of parameters
Pros
A unique popularity score
Shows accurate ad details like impressions and duration
Five advertisement ranking methods
Cons
Doesn't offer much beyond ads
Tool Level
Easy to use
Usability
Beginner
Pricing
Basic: $6/month
Pro: $69/month
VIP Enterprise: $9K to $29K per year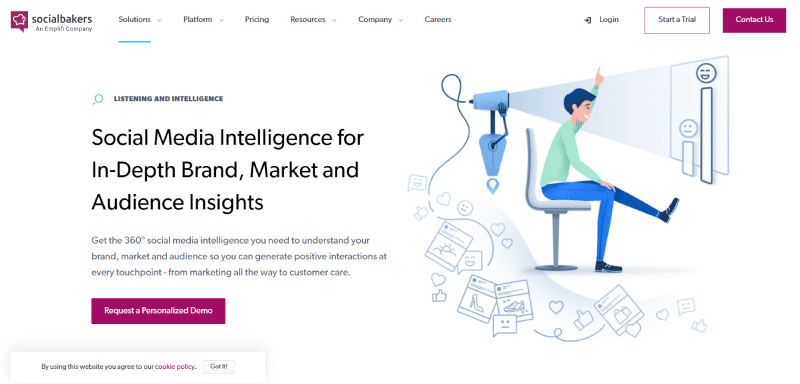 Socialbakers is a popular social media management tool used by Fortune 500 companies that also offers competitor analysis features for social media channels, including Facebook.
Socialbakers gives you an all-around view of your competitors and their strategies. It offers you the power of social listening functionality too so you can maintain an ear to the ground and find the conversations relevant to your brand (or indeed conversations about your competitors).
Key Features
Social listening for your brand and competitors
Analysis of competitors' conversations
Ability to see what's trending
Market sentiment breakdown
Pros
Easy to compare your brand with competitors
Numerous metrics are compared very accurately
Graphical display of comparison makes it easy to measure where you stand
Comes with numerous other powerful tools for managing your social media presence
Cons
Leaves more to be desired in terms of identifying competitors' strategies
Tool Level
Easy to use
Usability
Beginner
Pricing
$200 for 10 profiles
$400 for 20 profiles
Complete SocialBakers Platform: Custom pricing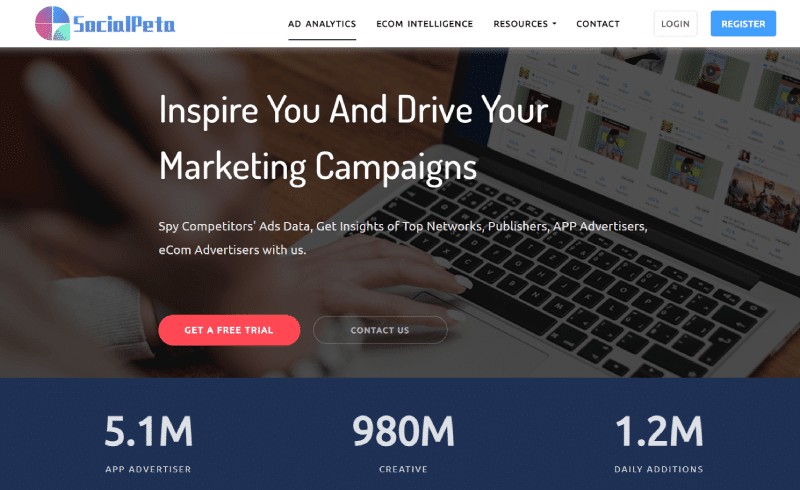 Like BigSpy, SocialPeta is yet another social media ad intelligence platform that comes in handy as a Facebook competitor analysis tool when you're running ads.
Using this tool, you get access to over a billion ads on various social media platforms like Facebook, Twitter, YouTube, and others. This platform also gives you a detailed insight into each ad — something which many other platforms fail to do.
Key Features
Data on 5 million+ global advertisers
Cost intelligence features to find cost benchmarks for Facebook Ads
Shows target audience data like country, gender, age, and more
Data on CPC, CTR, CPM, and so much more
Detailed analytics of each competitor's ads, including creatives used, dimensions, and more
Pros
Treasure trove of competitors' ads data
CPC and CTR data helps with cost estimates
Detailed competitor analytics can help inform your strategy
Shows ad duration, impressions, and creatives too
Cons
Lacks capabilities to track organic posts and their performance
Tool Level
Moderately easy to use
Usability
Intermediate
Pricing
3-day free trial available
Contact the team for pricing information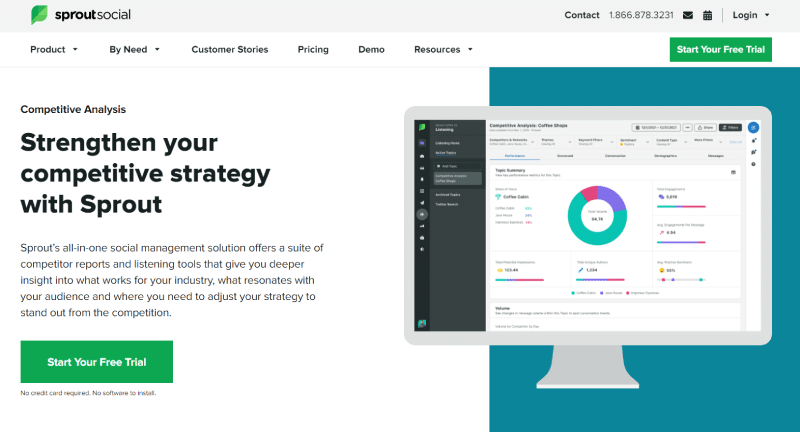 Sprout Social is yet another social media management platform that provides a Facebook competitor analysis tool too. With its social listening capabilities and competitor reports, you can easily understand the pulse of the industry and understand where you stand in comparison to your competitors.
You can track and measure fundamental metrics for your brand and competitors to understand what needs to be done to surpass their performance.
Key Features
Side-by-side competitor comparison feature
Shows top posts in the industry and even competitors' top posts
Network-specific performance reports are available
Filtering options based on content and message types
Shows current sentiment among the audience
Pros
Works for a whole range of social media platforms
Easy to see what's trending
Loads of details about competitors' content's performance
Access to competitor demographics
Cons
Can be costly to start as it comes with a whole suite of tools
Tool Level
Moderately easy to use
Usability
Intermediate
Pricing
Standard: $89 per user per month
Professional: $149 per user per month
Advanced: $249 per user per month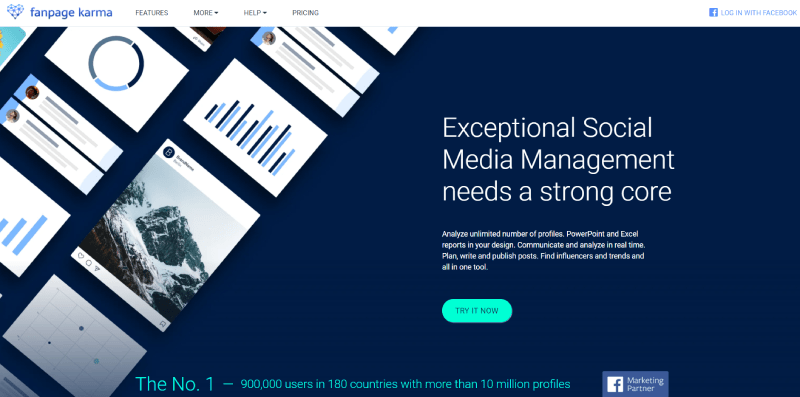 Fanpage Karma is a Facebook competitor analysis tool that helps you analyze numerous profiles to help you discover your competitors' strategies.
The tool helps you easily analyze the social media interactions of your competitors. Aside from this, Fanpage Karma also has community management features as well as publishing and scheduling features which bring all basic marketing needs together in one platform.
Key Features
Full featured social media management tool
Custom dashboards with graphical reporting
Alerts for high volume activities
Content analysis and time of the day analysis
Possible to analyze your own profiles
Team collaboration features
Pros
Ability to customize report colors
Exporting to PDF
Ability to share dashboards with external stakeholders
Free for Facebook with a single profile
Higher plans give access to multiple social platforms
Cons
Can be quite costly for each additional user

Tool Level
Easy to use
Usability
Beginner/Intermediate
Pricing
Bronze: $55.11 (€49) per month
Silver: $167.57 (€149) per month
Gold: $280.03 (€249) per month
Platinum: $729.89 (€649) per month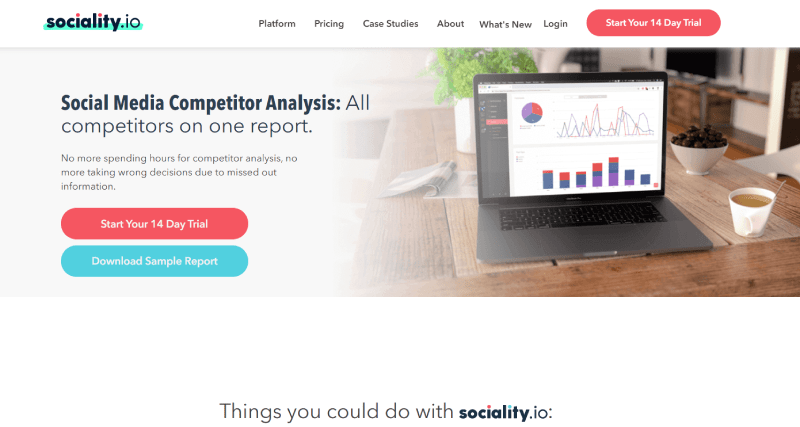 Sociality.io is yet another social media management tool that comes with listening and competitor analysis capabilities for channels like Facebook.
With the social listening features, you can see who's talking about things related to your industry and brand. This would help you identify your competitors better.
Additionally, the competitor analysis would help you deep dive into your competitors' Facebook pages. Based on that, you can see where you stand and accordingly tweak your social media strategy to outrank them.
Key Features
Head-to-head comparison with competitors
Competitor content analysis to inform your content strategy
Report preparation features for competitor analysis
Easy to keep tabs on keywords related to your brand and competitors' brands
Historical data, publishing frequencies, and engagement rates, among other features available
Pros
Easy to export reports and data
Data presented well in charts and graphs
Historical data gives better insight into the performance of your competitors
Numerous metrics that can be tracked
Cons
Restrictions for the size of the page you can add based on the plan
Tool Level
Moderately easy to use
Usability
Intermediate
Pricing
Team: $60/month
Business: $180/month
Enterprise: Custom pricing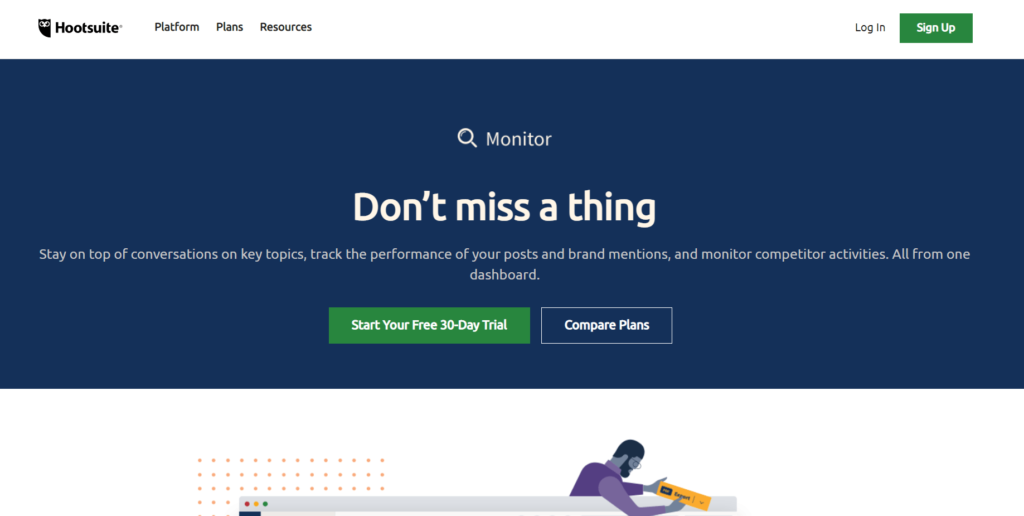 Hootsuite is arguably the most used social media management tool out there. In addition to an array of other features, it offers a competitor analysis tool for multiple social platforms, including Facebook. What makes this tool worth your money and time is the fact that you can track every activity of your competitor right from your dashboard.
Hootsuite lets you easily set up custom streams on various topics of your interest and see who's posting content related to those topics. You can also search for posts created by your competitors and see how they're performing.
Key Features
Possible to track keywords and topics
Shows demographics, location, date, and more related to a post
Integrations with social listening tools like Brandwatch and Talkwalker
Alerts for mentions spikes
Pros
Helps identify your competitors and other thought leaders
Real-time overview of online conversations
Easy to set up custom streams for focusing on essential topics
Offers a free version
Cons
Doesn't offer very advanced competitor analytics features
Tool Level
Easy to use
Usability
Beginner
Pricing
Free plan
Professional: $49/month
Team: $129/month
Business: $599/month
Enterprise: Custom
FAQ
Which tools are used for competitor analysis?
Some of the most popular Facebook competitor analysis tools are:
Social Status
BigSpy
Socialbakers
SocialPeta
Sprout Social
Fanpage Karma
Sociality.io
Hootsuite
How can I analyze my competitors on Facebook for free?
Some of the free Facebook competitor analysis tools you can are:
What are the best competitor research tools for Facebook ads?
Competitor analysis tools that you can use for Facebook ads include:
How do I do a competitor analysis on Facebook?
To do competitor analysis on Facebook, start by selecting a reliable competitor analysis tool. Then, leverage it to find and track your competitors. Use the data collected from this to then inform and improve your strategies.
How do I analyze my Facebook page?
To analyze your Facebook page, you can leverage a Facebook analysis tool. It would help you understand how well your audience engages with your content and the overall growth of your page. Many competitor analysis tools can also be used to understand your performance as well.
Next Steps
Understanding your competitors on Facebook is key to growing your brand's presence on the platform. Conducting competitor analysis helps you figure out your competitors' strategies. You can then incorporate those insights into your strategies to further bolster your brand's growth on Facebook.
These Facebook competitor analysis tools will help you do it all with ease. And if you need a reliable one that can help you do it all, you can get started with Social Status for free.