Social media strategy in 2021 will be defined by the accelerated fragmentation of social media channels and media formats.
Although it feels like we've lived with social media for decades, it was only 6 years ago that social and digital ad spend overtook television: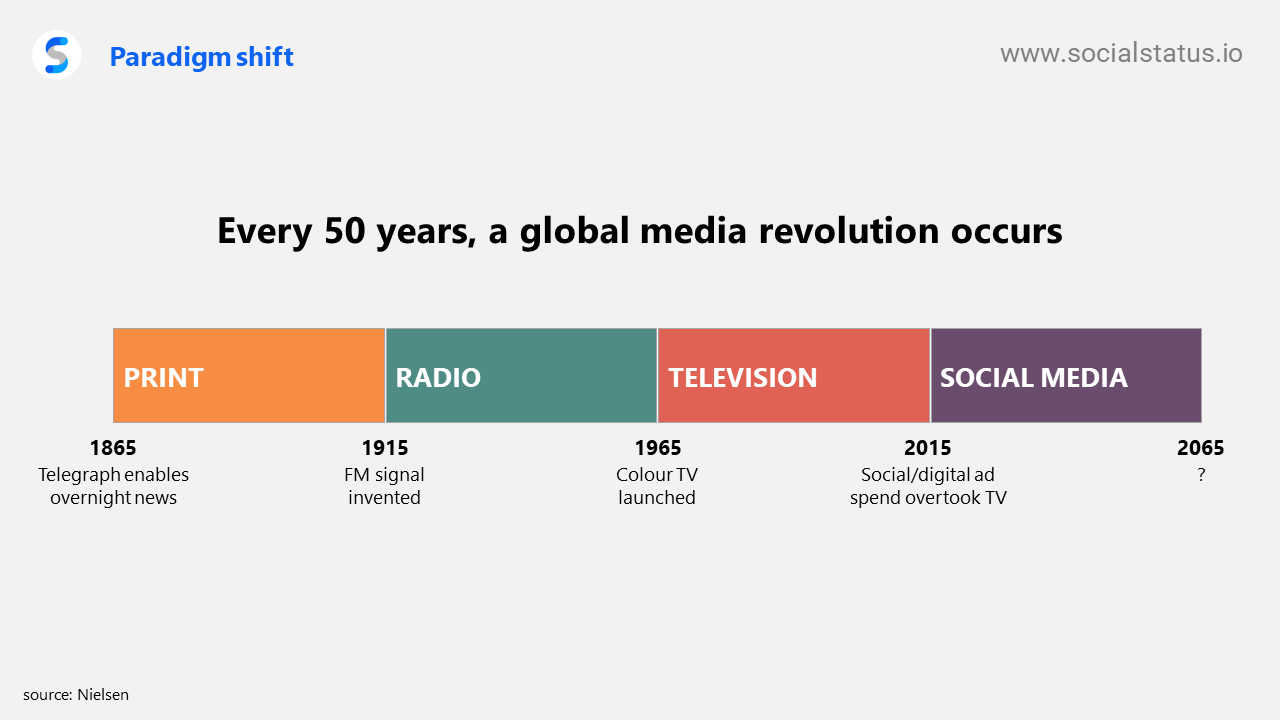 But that moment represented a fundamental paradigm shift in global media. Interestingly, every 50 years a moment in time occurs that heralds a new era of media. It's been happening like clockwork since the 19th century.
There's no doubt we're in the social media era right now and we'll continue to be for at least the next 40 years.
The world currently has over 3.78 billion social media users as of 2021. This number represents a 5% increase from a year ago. The existing incumbents (Facebook, YouTube, et al) are growing rapidly in the developing world but have stopped growing in the developed world. You could almost say they've acquired everyone they can. Growth in the developed world is with the emerging channels (TikTok, Triller, Byte and others).
To combat the onslaught of new channels, the incumbents are spinning up new media formats and have been doing so for some time. Instagram being the best example of this, having evolved over time from a simple photo-sharing app and expanding with videos, then Stories, then IGTV and now Reels.
Marketers in 2021 need to pick their battles while also keeping a close eye on trends especially in user behavior. So with that in mind, let's run through these 8 tips for how marketers can optimize their social media strategies in 2021:
1. Sign up to every new channel, use every new media format
I don't mean as your organization. I mean you personally.
I don't get it when social media strategists say things like "I'm not on TikTok". Umm ok, so how are you going to keep across social media trends then? How are you going to understand what people find interesting? How will you keep your finger on the pulse? Even if the channel isn't relevant to your brand, you can find inspiration in the most unlikely places, plus it might be relevant for a future role.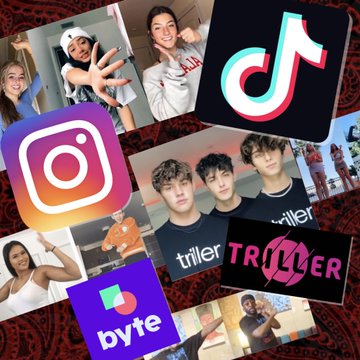 Here are just a handful of emerging social channels planning big things in 2021:
The same goes for new media formats, like when Instagram launched Reels. Sure we all hated on it initially, but you've gotta try it out, understand how it works and know its pros and cons.
2. Figure out the KPIs that matter
Like any other marketing strategy, social media marketing must begin with the end in mind. Many potential social media metrics come into play when measuring social media success. Your KPIs need to support your business objective. So defining your business objective is step 1. Then, you can decide on which KPIs best represent success of your business objective.
For objectives at the top of the funnel, your KPIs will be reach, impressions or video views. One of my personal favorite social metrics is Organic Reach Rate. For mid-funnel objectives you'll be looking squarely at engagement metrics and for bottom of funnel objectives, you'll be looking at clicks and conversions. Of course, you might end up with a full-funnel objective and you'll need to measure and report on all metrics through the funnel.
If you connect KPIs to your business objective you'll be able to achieve agreement on your strategy with clients or stakeholders much more effectively. With that done, it'll be easier to then execute the strategy and drive the KPIs.
3. Use social media analytics to inform social strategy
Social media analytics doesn't have to be confusing or time-confusing. Measurement aside, sometimes the basics like delivering social media reports can be a cumbersome exercise. But social analytics and insights are highly valuable to an organization's social media strategy. To curb this recurring issue, find a social analytics tool that can help simplify, streamline, and structure analytics in a way that answers more questions than it creates.
Social media activity is best optimized when it's informed by data insights derived from social media analytics. Social metrics show exactly how people react to your content and subsequently how this affects your success. Social media reporting provides a clear picture of how all social media activities are going, but it doesn't have to be time-consuming. Use a social media reporting tool to automate report delivery, analytics, and insights. But if you're stuck in manual hell, then at least our social media reporting template will help! Download it in PowerPoint format or save it to Google Drive.
4. Co-create & curate
For some marketers, their social media strategy may become less about the actual creation and more about co-creation with customers, ambassadors or internal influencers. With the rise of the "creator", organizations have so many potential opportunities to collaborate with others (humans or other brands) to tell their brand story. On social channels popular among creators like TikTok, Snapchat, Instagram and YouTube, we're seeing more brands taking a back seat and opting to work with creators and influencers on content campaigns.
Influencer marketplaces have sprung up to help you find influencers or micro-influencers to work with. Facebook itself, wants in on the action and have launched their own Brand Collabs Manager product inside Business Manager to help you find Facebook and Instagram influencers or Facebook Group admins to partner with on your next campaigns.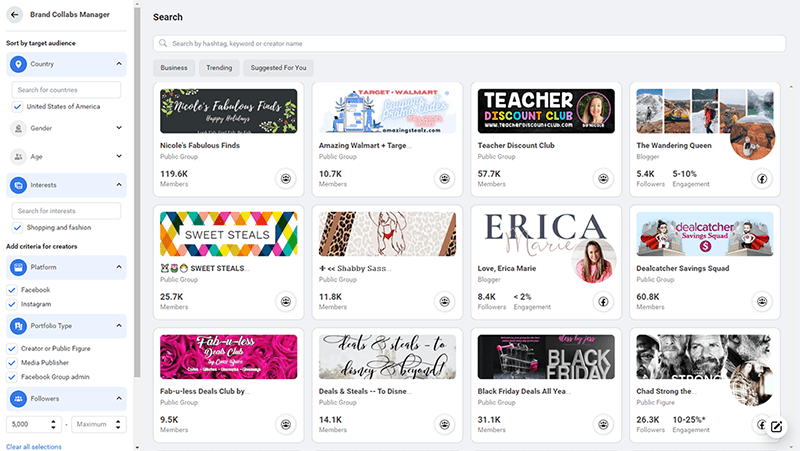 You should look internally first and try to identify staff members or loyal customers who are active on social media that you can collaborate with. You can also use social media listening to identify opportunities to curate content relevant to your industry or niche.
5. Double down on video content
More and more, video content is becoming the future of social media consumption – specifically portrait video thanks to Snapchat, TikTok, Instagram Stories and now Instagram Reels. It's likely that by 2022, 82% of the global internet traffic will come from video streaming and downloads. But even as the volume of video content increases, the attention spans of consumers seems to be shortening which is why it's really important to focus on the first 5 seconds of your video content – make those first few seconds as impactful as possible.
I spoke to Ticker TV about how marketers and businesses need to be optimizing for portrait video:
The rise of TikTok remains the best case study scenario to prove that point. Social media trends for 2021 show TikTok on a trajectory to continue to grow massively in 2021.
One of the many unique features of TikTok is how it's centred around remixing and spinning off video trends. So anyone who wants to leverage the power of TikTok needs to start thinking about how they can create portrait video content that adds value to audiences and promotes their brands, products, and services whilst still using the channel authentically.
6. Have a content plan and schedule your content
One of the more important social media strategy tips for business is to ensure that a social media content plan is in place. With a content plan, marketing teams can better present social media content schedules to decision-makers and get approval on content posting faster. This practice also ensures consistency in social media posting, which remains a large factor in optimizing for the latest News Feed algorithms.
How to become a big content creator:

• Be consistent—obsessively so.
• Make content you yourself enjoy.
• Learn how growth works on your channels.
• Build an engine for repeatedly sourcing novel content ideas.
• Refine your eye and taste for which content patterns to mimic.

— Julian Shapiro (@Julian) January 9, 2021
One way to create a social media content calendar is to use social media management software that plots out, schedules and publishes content as needed. Check out this social media management software guide to see what options you have for management tools.
7. Learn from competitors
Learning how to perform social media competitor analysis is another important practise that could accelerate your brand's social media channels into success this year. Through the use of social media analytics tools, teams and marketers can take away key insights from what their competitors are doing- what content pillars they're using, how they formulate their copy, what media types they use, which social channels they're active on, how often they post, and so on.
A deep dive into social competitor analysis can tell a marketer much about what trends to leverage based on the success of their competitors. But that's not to say that analyzing your competitor is an easy task. Studies show that marketers often spend up to eight hours weekly compiling social media reports. Marketers can automate this process with a social media analytics tool that encompasses competitor analytics. Several tools on the market can do this including Social Status.
8. Get ready for social commerce
In the past few years, social commerce has exploded, especially accelerated in 2020 as a result of global lockdowns. To date, 87% of e-commerce shoppers believe social media helps them make a shopping decision.
For instance, I recently wrote about how Instagram's bet on Shopping, was one of the biggest changes they've have made to the app's navigation bar the last 10 years. By placing the Instagram Shop Tab front and center in the nav bar, Instagram has sent a clear signal to the market about where they're investing their resources. For businesses selling online, Instagram could be a key driver of revenue growth in 2021. We expect shoppable content, curated shopping lists and shoppable trends to continue growing through 2021.
What does your social media strategy look like in 2021?
Despite recent controversies, social media won't be going away anytime soon. As organizations continue to adjust to the fragmenting landscape, social media will play a bigger role in the way companies market their products and services.
Winning on social media in 2021 could very well make or break many small businesses. We wish everyone the best and hope that these tips can help you thrive amidst a changing world. Let us know what you think on Twitter @socialstatusio.