Real-time metrics. High performance tracking. The introduction of social media into the marketing landscape would have seemed like a god-send over clunky, longwinded traditional media monitoring.
That is, provided marketers actually understood how to unpack these metrics and turn them into $$ – something that would sit more favourably when explaining social's value the boss.
According to a CMO Survey, social media spending increased 234% from 2009 – 2017 to around $US31 billion – that's a whole lot of cash. Despite this exponentially increasing figure, only 20.3% of marketers say they are able to prove the impact of social quantitatively!?
Now there are 2 reasons why these statistics are so staggering.
Number 1: WHO ON EARTH IS GIVING MARKETERS $US31 BILLION A YEAR, WITH ABSOLUTELY NO INDICATION AS TO WHETHER THERE IS SOME IF ANY ROI?!
Number 2: How do companies know which of their social media tactics are providing value to the organisation?
Let's focus on this today and start with an obvious question.
What Exactly Are We Monitoring?
The beauty of monitoring social media is the breadth of metrics that are available for us to unpack. The downside to this is that it can be down right petrifying and easy for us to feel overwhelmed by the sea of information.
But just because all of metrics exist, doesn't mean we need to drown ourselves in them.
Here are the top 6 social media metrics we believe are important to your business: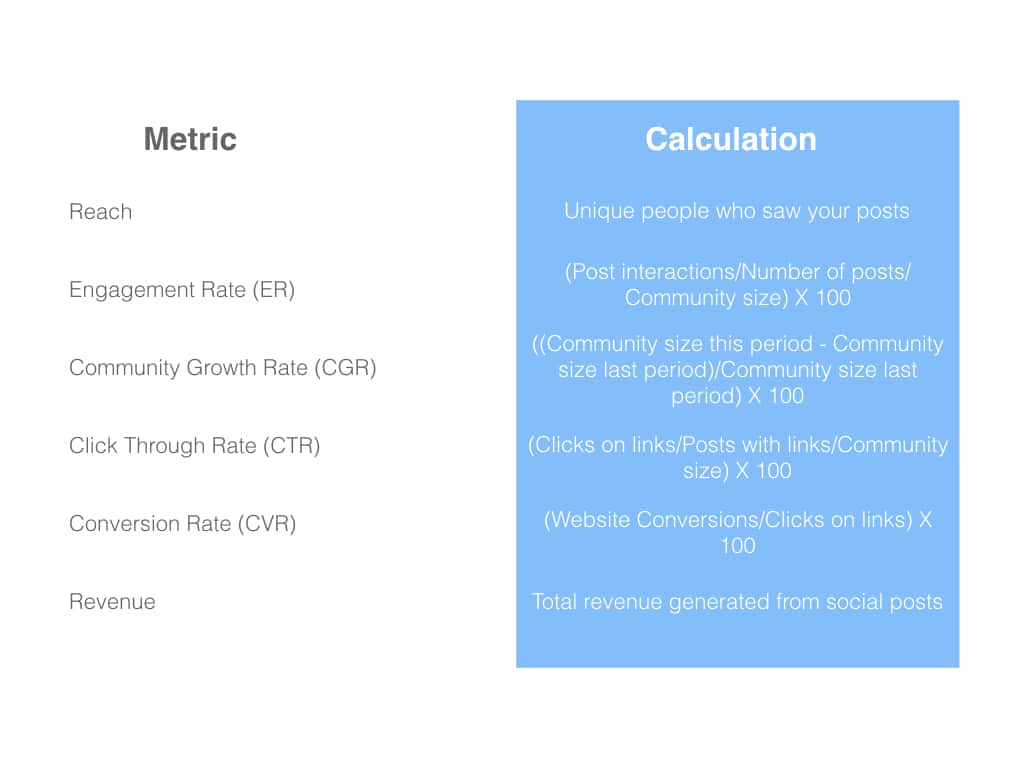 Let's look at each metric in detail;
Reach
This is an important number to give the boss because it should be the biggest number you have. Over time it will decline as organic reach inevitably continues to be crunched. If you see organic reach dropping, it may be time to consider paid reach and the amazing potential it has.
---
Engagement Rate (ER)
ER is your best measure when answering the question about how effectively your content resonates with the audience. ER is your finger on the pulse of content performance. If you see advocacy interactions like Shares and Retweets going up, you're on to a good thing.
---
Community Growth Rate (CGR)
As marketers transition their social strategies to more of a paid model, CGR will continue to be important because your community should be one of the most cost-effective audiences to reach. If your community isn't large, they will fatigue faster. Growing this base is really important in the new world of social as a paid channel.
---
Click Through Rate (CTR)
This is where we start to get down to the pointy end of the AIDA funnel. CTR will give an indication of how effective your content is at driving visitation to your website. If your objective on social is purely engagement then perhaps this metric won't be as important to you. But for the vast majority of marketers, there will be pressure to prove the business value of social media. Comparing the CTR of social against your other digital channels like e-mail, display, paid search etc is a great way to communicate that value.
---
Conversion Rate (CVR)
The Conversion Rate is one of the most important metrics sitting right at the bottom of the funnel. This answers the ROI question and will really help you communicate the value of social to the business. Even if you don't sell online, CVR is still absolutely applicable. In fact it should work for every single social marketer. Think of the kind of conversions that exist on your website, be it filling out the contact form, downloading a document, viewing a key page, signing up to your newsletter, etc. Like the CTR, you should benchmark your CVR against other digital activity, especially paid search.
---
Revenue
This metric will only be relevant to marketers who sell products online and represents the aggregate revenue generated during the reporting period. This metric is pure social ROI.
By continuously monitoring these metrics we start to build a historical means of benchmarking our performance against previous weeks, months, quarters or years. By doing so, we provide ourselves with a means of tracking whether certain campaigns were successful, we build up a bank of knowledge in terms of understanding what types of content drive leads, and which engage our audiences.
Having this information assists us to:
prove the value of social within an organisation
secure executive buy-in and justify budget commitments
plan and delegate resources into tactics that are successfully delivering value and dismiss or rework those that are not
identify gaps within your overall marketing efforts
understand customers perceptions, expectations and wants
---
What Does Successful Social Media Monitoring Look Like?
The second most common issue marketers have when monitoring their social media activity is bringing it all together.
What do we mean by that?
Well for starters, there are tons of social media sites out there. Even if your company only has a presence on 3 of those sites, that's still data you need to collate across those 3 platforms and bring together.
The average marketer spends 8 hours per week compiling these reports manually – talk about wasted resources!
Not only this, but between the spreadsheets, powerpoint presentations and interpretation of data, it is not difficult to see why this particular activity does not thrill marketers. But it is so important!
We understand this struggle – trust us, we've been there done that!
That is why we built a platform to automate the process and consolidate reporting into one comprehensive report.
The Social Status Platform allows marketers to continuously monitor their social media performance against that of their competitor or industry set of their choosing.
Don't get buried under excel spreadsheets, don't drown in a sea of countless metrics, but most of all, don't not monitor your social media efforts.