LinkedIn has over 850 million members. LinkedIn is one of the OG social channels and actually pre-dates Facebook, YouTube and Twitter!
I love LinkedIn as a social channel because it's really different to the others. Not just because of the B2B context but also because of the diversity of features and tools on the channel, plus the fact that organic/viral reach is still very possible in the LinkedIn Newsfeed.
The key to mastering success with your content strategy on LinkedIn is to understand what works and why. This is where LinkedIn analytics tools come in and can provide valuable insights to help you optimize your content.
LinkedIn already has a free analytics tool built-in but it's basic. For the majority of marketers, they'll need something more powerful as well as the ability to export reports for stakeholders.
Third-party analytics tools offer many more metrics and detailed reports with numerous analytic features that make social media analysis on LinkedIn much easier.
Another important benefit of using third-party tools is that most companies have a presence on at least all the major social media platforms. Therefore, social media analytics tools help you combine LinkedIn data with social data from other channels too – so you can tell the full story of social media performance.
So, let's take a look at this list of the top 13 LinkedIn analytics tools you should consider.
13 Top LinkedIn Analytics Tools for Businesses
Most LinkedIn analytics tools provide free trial periods or even free plans so I always recommend to try a few different tools to find what works best for you!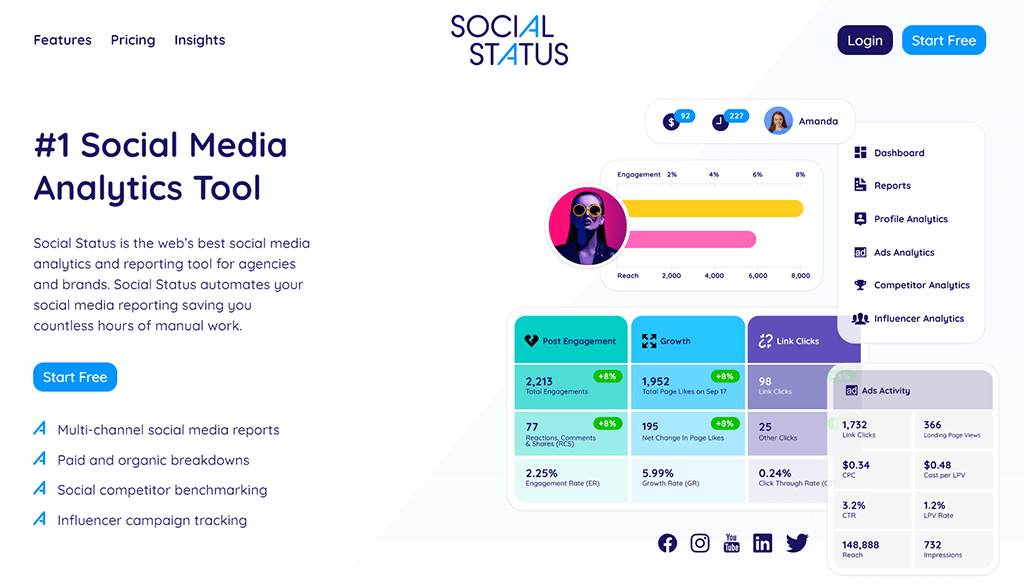 Social Status is one of the best LinkedIn analytics tools on the market. Trusted by over 10,000 marketers around the world, Social Status is highly rated and has powerful features that every digital marketing manager needs for analytics and reporting on LinkedIn.
One of the most important features is Profile Analytics which enables tracking and analysis for all your LinkedIn Company Pages (note that LinkedIn don't permit Personal Profiles for analytics access). Data can be viewed on the live dashboard and includes key metrics such as Impressions, Video Views, Engagements, Growth and Clicks. Data can also be exported to boardroom-ready report formats like PDF, PowerPoint and Google Slides. Digital agencies can white-label and customize their report templates too.
Coming soon to Social Status is Ads Analytics support for LinkedIn Campaign Manager which will enable tracking and reporting for all your LinkedIn ad campaigns. The broader Ads Analytics product already supports Meta Ad Accounts so you can track Facebook Ads and Instagram Ads in one consolidated view.
Social Status is comprehensive and ideal for content creators, small businesses, digital agencies, Government and large companies alike. Social Status pricing starts at just $29 per month and scales all the way up to $999 per month for a completely unlimited plan.
Key Features
Support for LinkedIn as well as Facebook, Instagram, TikTok, YouTube and Twitter
Full funnel metrics tracking for LinkedIn Company Pages
Report automation for PowerPoint, Google Slides, PDF and Excel
Access Company Page follower Demographics
White label and fully customizable report templates on the Business Plan and above
Influencer Analytics for tracking B2B influencer Company Pages
Pros
Free and low-cost plans available including free trials on paid plans
Social Status is an official LinkedIn Marketing API Partner
A wide range of plans to accommodate marketers at every level
Automated report generation
Multi-channel reporting
Cons
As Social Status is a dedicated analytics tool there are no features for publishing or scheduling posts on LinkedIn
Usability
Easy to use
Tool Level
Beginner/Intermediate/Advanced
Pricing
Free: $0
Starter: $29 per month
Pro: $49 per month
Business: $99 per month
Agency: $399 per month
Enterprise: $999 per month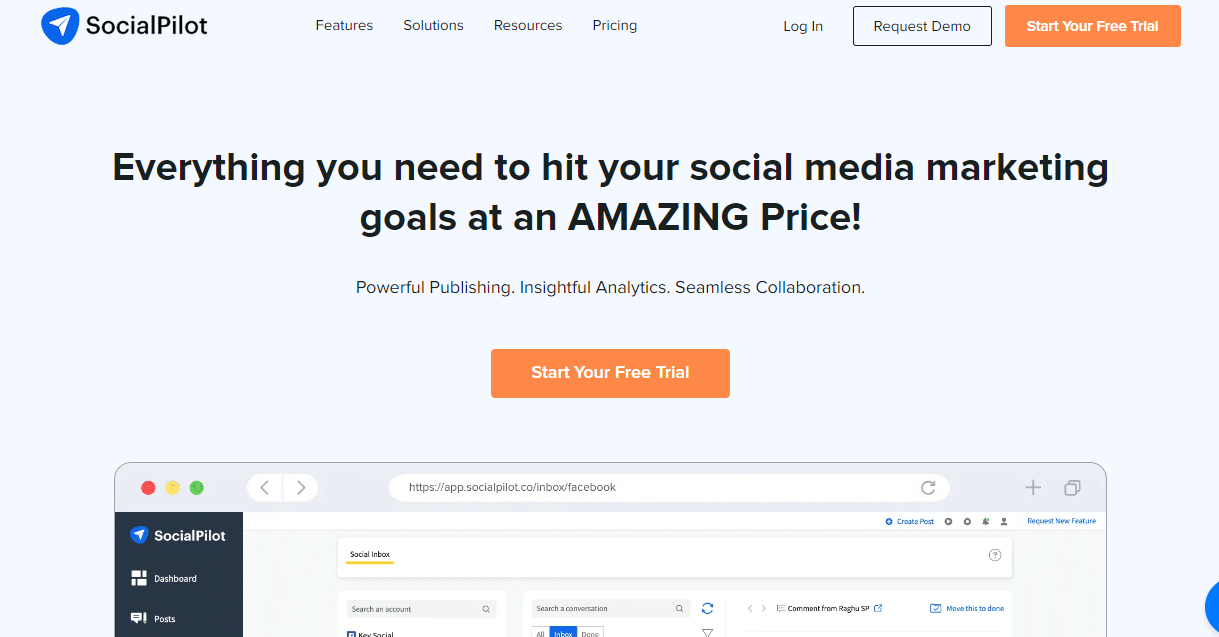 SocialPilot is a great LinkedIn analytics tool for small businesses and startups. It's an innovative tool with features that are constantly updated with the latest changes in the social media world.
Though it may not have advanced features, it's sufficient for teams that are not looking for something too complex. Its scheduling feature, for instance, is quite solid, giving you the ability to auto-schedule up to 500 social posts. This is one of the most important features of any social media management tool.
Besides LinkedIn, it supports all major social media platforms, allowing you to manage your online presence through a single platform. The tool integrates easily with Canva too, so you can add images or videos when creating LinkedIn posts. It also allows for seamless collaboration between teams, and they can preview your scheduled posts and suggest changes in real time.
Another important reason for this tool's effectiveness is its content curation feature. One challenge that social media managers face from time to time is finding content to post regularly.
With this feature, SocialPilot suggests content that you can repost, depending on the keyword you search for and your industry. You can then decide if the content is relevant to you or get some ideas from there.
This tool also lets you manage plenty of social media accounts and networks while being lighter on the pocket compared to other social media tools that offer the same functionality.
Here are some of the key features of this LinkedIn analytics tool:
Key Features
Enable bulk scheduling
Plan posts for different social media accounts
User-friendly interface
Detailed performance reporting and analytics
SocialPilot has mobile apps as well as Chrome and Firefox extensions
Pros
14-day free trial is available
The tool is easy to use
You can get a custom demo for enterprise and white-label plans
Cons
Lacks Instagram performance reporting
They have no live chat or phone support options
Usability
Easy to use
Tool Level
Beginner/Intermediate
Pricing
Professional: $25.50/month
Small team: $42.50/month
Studio: $85/month
Agency: $106.25/month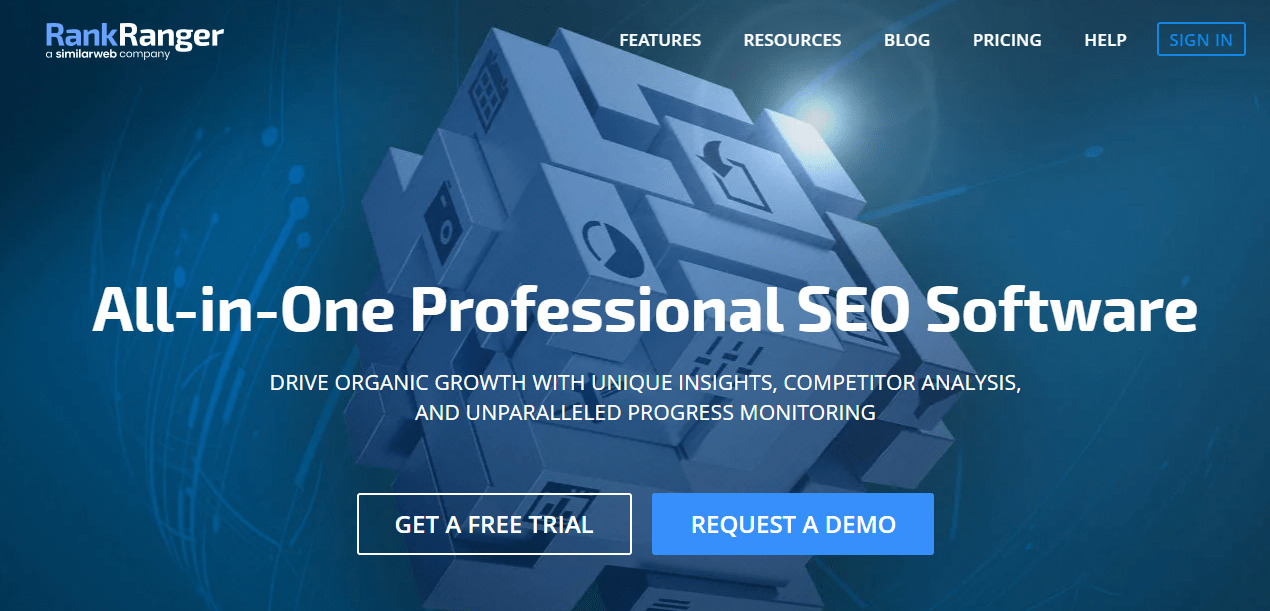 This all-in-one SEO marketing software also doubles up as a LinkedIn analytics tool. Despite being more of an SEO tool, it has some notable social media reporting capabilities as well.
One of the many useful features of this tool that some common social media tools lack is its competitor analysis feature. Unlike, for instance, SocialPilot, Rank Ranger provides a detailed analysis of your competitor's social media activities.
With this kind of insight, you can compare your interactions and performance and gain a competitive edge. For instance, you'll know what they're doing differently, what's working for them, and learn from that, and so forth.
Rank Ranger's LinkedIn reporting capabilities give this tool an edge over many others, especially in terms of how well it breaks down your follower base and key performance indicators.
You can tell what your market segment is from their reports, as well as the demographics of your LinkedIn followers. Since the tool is made both for your social media accounts and website, you can easily determine how much of your web traffic is influenced by your social media interactions.
However, this tool only monitors a limited number of social media platforms and does not support integration with others, such as TikTok and Pinterest.
It also does not provide functionality for post scheduling, content curation, and social media planning. Therefore, unless you need a tool to optimize your website SEO with basic LinkedIn analytics capabilities, this may not be the tool for you.
Key Features
Rank tracking features
Competitor analysis
Website SEO
Social media analytics
Third-party integrations to Google Search Console
Pros
It offers a 14-day free trial
Has versatile features, including SEO capabilities
Cons
Not the best tool for social media management
Quite an expensive tool compared to others
Too many features make the user interface cluttered
Usability
A considerable learning curve when onboarding
Tool Level
Advanced
Pricing
Lite: $79 per month
Standard: $149 per month
Pro: $699 per month
Premium: $2,700 per month
Klipfolio is a dashboard and analytics software that comes with the capability to integrate with numerous applications, among them being social media platforms. This lets you centralize all your data, including analytics and reports from other sources.
It's one of the most detailed LinkedIn analytics tools, as it's specifically a data visualization solution. It provides you with custom dashboards where you can view all your data at once, under one roof.
With it, you'll get many other integrations to applications such as Microsoft Excel and other web apps, allowing you to import data directly onto your dashboard.
It also generates marketing insights, reports, and analytics that you and your team members can access. Team members also get to share their dashboards through multiple channels, and this is a plus for teams that collaborate.
Your LinkedIn reports, for instance, can be both exported and shared in real time. Additionally, your clients can give you access to their dashboards in case you have any additional input.
Klipfolio has pre-built dashboards that you can use to track your impressions, engagements, and followers.
Key Features
Dedicated social media analytics dashboard
Integrations with multiple third-party business intelligence software
Built-in data connectors to import data from numerous sources
Data merging from different sources
Pre-built dashboards that are also customizable
Pros
14-day trial period
Responsive customer support team
Public, as well as private dashboards, are available
Cons
Usability
Some technical expertise is needed
Tool Level
Intermediate
Pricing
Plans for small to medium-sized businesses
Grow: $99/month
Team: $199/month
Team +: $399/month
For enterprises, custom plans start at $499 per month.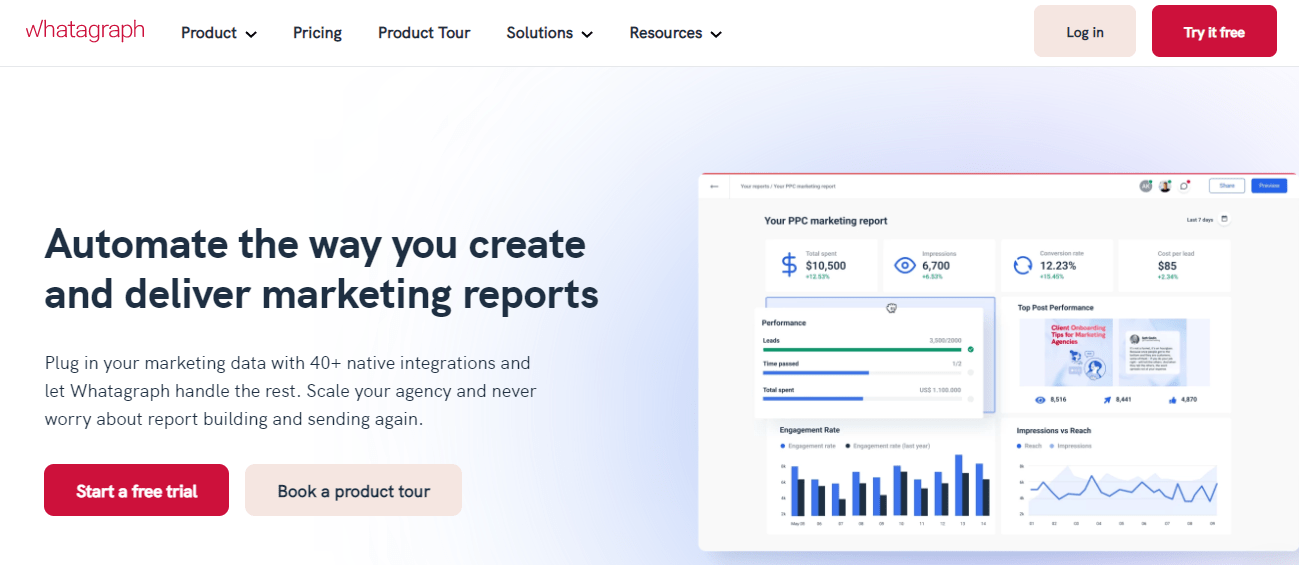 One major function that LinkedIn analytics tools help businesses accomplish is enhancing their marketing performance. Whatagraph, a marketing reporting software, is one such tool.
With its numerous integrations, you can easily import marketing data from other applications, including LinkedIn and other social media platforms, and it will transform it into simple, yet detailed visuals.
With this LinkedIn reporting tool, you will also save lots of time producing actionable insights for your clients. It automates most of the workflow involved and produces clean reports and graphics.
The user interface on this application is easy to configure and navigate, and this makes it suitable for everyone, including non-technical teams.
On a single dashboard, you can view all your social media key performance indicators, which makes it easy for you to analyze your performance.
You can track your historical data on this application as well, which is an essential feature that some reporting tools lack.
This digital marketing tool is suitable if you're looking for a simplified reporting process, especially for your social media reporting needs.
Key Features
Numerous integrations with LinkedIn and other social media channels
Ready-made customizable report creation templates
Private and public dashboard
Automated reporting
Interactive user interface
Numerous third-party integrations
Pros
7-day free trial
Fast customer service
Easy to use
You can easily personalize your reports
Cons
Expensive for startups and small businesses
It does not have a mobile application
Usability
Easy to use
Tool Level
Intermediate
Pricing
Professional: $199 per month billed annually
Premium: $299 per month billed annually
Custom pricing is billed annually or quarterly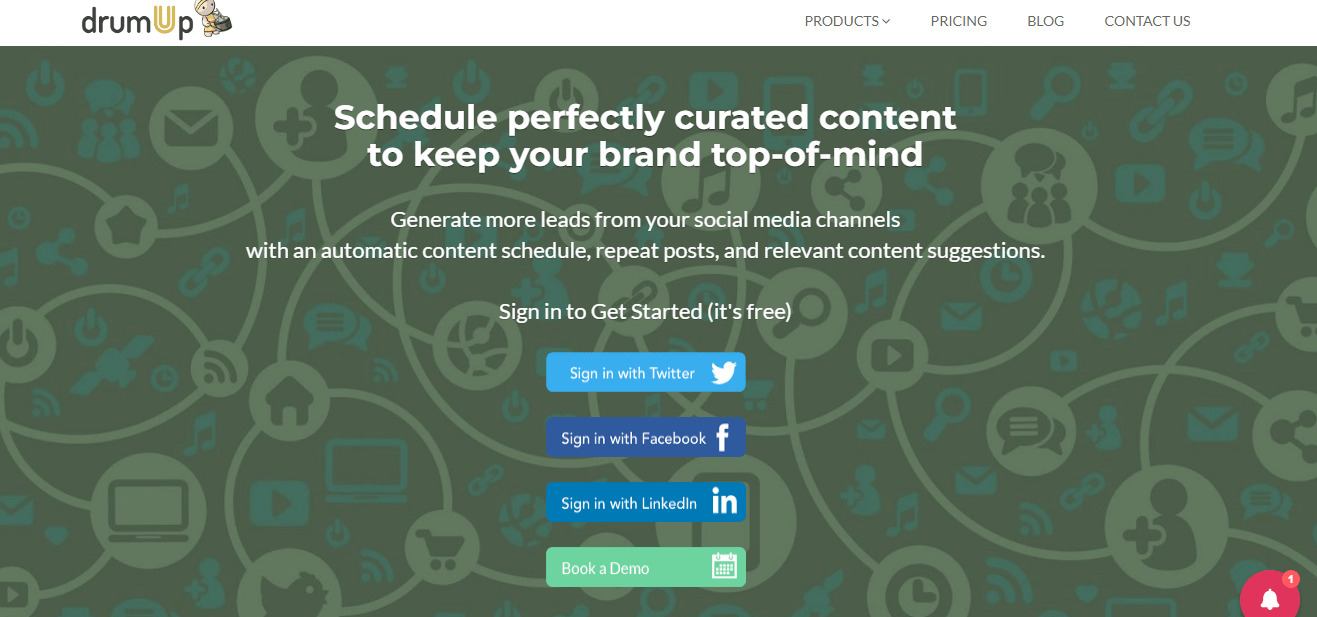 Besides being a Linked analytics tool, DrumUp is also a social media management tool. It has a vast number of features that social media managers can take advantage of and save time in their marketing efforts.
One is their automatic content scheduling feature that lets you plan content. The other is its content curator feature.
With the content curator, DrumUp scouts the internet to come up with content suggestions for you that are suitable for your industry or based on the keyword you type in. This way, you'll cut the time you use to come up with fresh content by more than half.
The analytics feature offered by this platform gives you a detailed look into your performance on LinkedIn and other social platforms like Facebook and Twitter.
The data is very granular here in the sense that you can do a deep-dive analysis with its many filters. This gives you numerous insights that can strengthen your content strategy.
One special feature that this tool offers is hashtag recommendations. This can help you further amplify the reach of your LinkedIn posts. And to wrap it all up, the analytics tool gives you a bird-eye view of your whole social media presence. You'll be able to track your engagements, measure progress, gather actionable insights, and download these reports to share or access offline.
Key Features
Automatic social media scheduling for multiple platforms
Industry-specific content curation
Content folders to save posts for reuse in the future
Engagement analytics
Advanced filters
Pros
Has iPhone and Android mobile applications
Offers a Google Chrome extension
Provides content suggestions
Has a freemium package
Affordable pricing
Cons
Lacks some key analytics features
Usability
Easy to use
Tool Level
Beginner/Intermediate
Pricing
Free: $0
Starter: $15 per month
Pro: $39 per month
Small Business: $79 per month
7. Brand24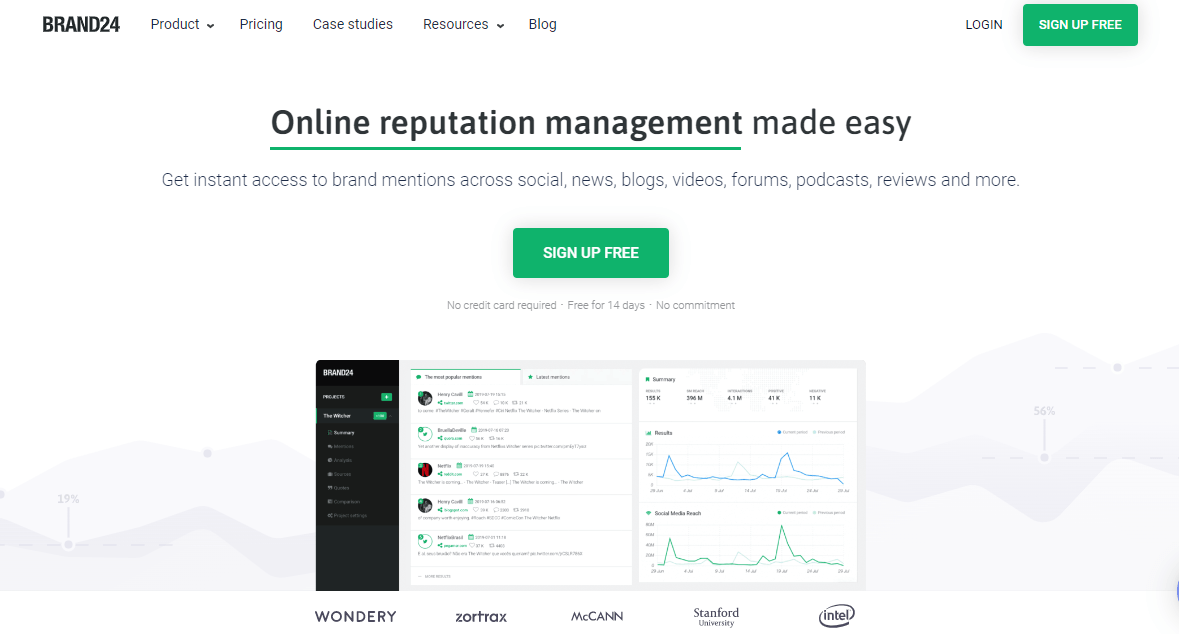 Brand24 is a social media listening tool that helps you manage your mentions and take action. With this LinkedIn analytics tool, you can easily "listen" to what people are talking about your brand, not only on your LinkedIn page and posts but also on other sources.
It extracts mentions from all over the internet, including blogs, social media profiles, and news sites, to track terms that are important to your business.
This gives you insights into the context in which your brand is being mentioned, and this information helps you with your digital marketing strategy.
Knowing what people think of your brand or analyzing people's sentiments about your posts is crucial for building your image. And what better way to do that than through a social listening tool, with an analytics feature to help you better track your mentions?
Through the Brand24 dashboard, you can view reports and analytics related to your mentions and compare those across your social media platforms. All you have to do is input your brand name or a hashtag you want to monitor.
You can also use this tool to track your competitors' mentions online and make comparisons. It also doubles up as a social media influencer marketing tool, helping you discover the top social media influencers you could work with to improve your brand.
With the rise in influencer marketing in the current digital world, this might just be the addition your LinkedIn marketing campaigns need.
Key Features
Brand mention analytics
Mentions and sentiment dashboard
Shows the volume of mentions, for brands or keywords
Ability to find and discover social media influencers
You can set up alerts for when your brand gets mentioned
Quick and easy reporting
Pros
14-day free trial
Easy UI design
Top social media monitoring capabilities
Competitor analysis and insights
Cons
No publishing or scheduling features, unlike most of its competitors
Lower pricing packages lack essential features
Usability
Easy to use
Tool Level
Beginner/Intermediate
Pricing
Individual: $49 per month billed annually
Team: $99 per month billed annually
Pro: $149 per month billed annually
Enterprise: $249 per month billed annually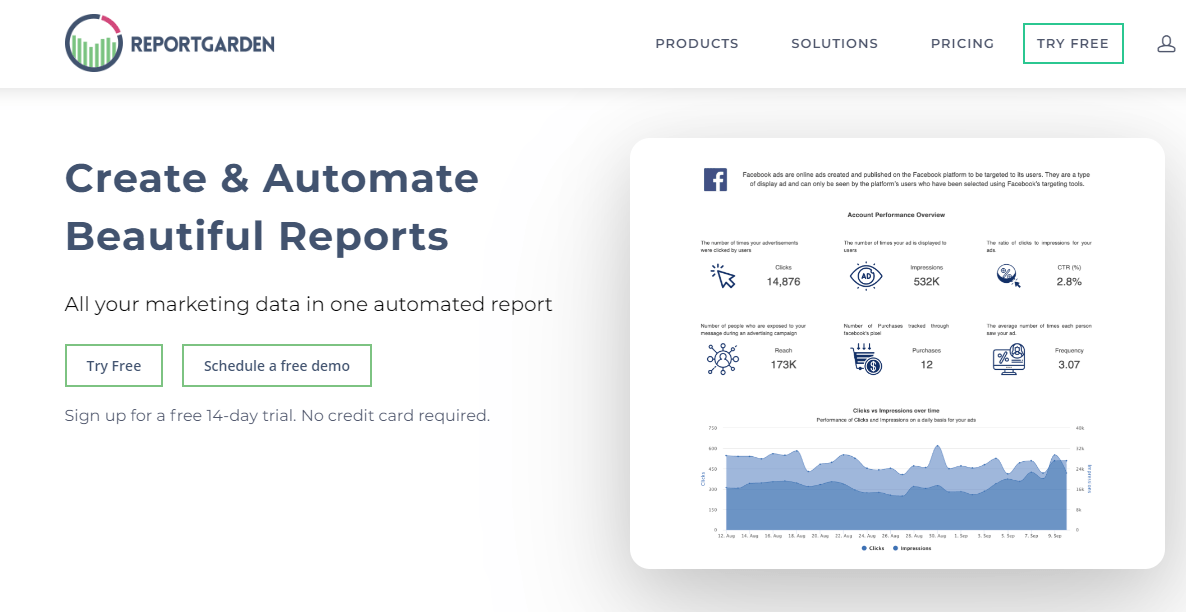 This is another digital marketing solution that you can use as your LinkedIn analytics tool. ReportGarden provides multi-channel reporting features for different social media platforms.
Digital marketing managers can utilize this tool to produce performance reports across marketing channels.
The tool supports multiple integrations besides social media, which allows you to use tools such as Google AdWords and Google Analytics to gather data. You can also schedule reports and automatically send them to clients at a set later date.
Once you've produced social media performance reports for your clients, you can edit them to highlight key performance indicators, and make them visually appealing and easy for your clients to understand.
ReportGarden has user-friendly dashboards that allow collaboration. You can have your clients' reports and data in a single location with these dashboards.
Furthermore, it's an easy tool to configure and once you link the application to LinkedIn or any other platform, your data will be automatically synchronized.
If you're looking to help your clients boost their social media campaigns as well as other marketing campaigns, then this is just the tool you need. It's also suitable for clients seeking a complex reporting solution. And like a few other tools mentioned earlier, you can use ReportGarden to evaluate your competitors' performances as well.
Key Features
Pre-built customizable social media dashboards
Social media reporting
Keyword and backlink analysis
Competitor analysis
White labeling
SEO auditing
Multiple integrations e.g. Google Analytics
Pros
Has a 14-day free trial, no credit card is needed
An all-in-one digital marketing tool
Detailed reporting capabilities
Cons
Usability
User-friendly with a slight learning curve
Tool Level
Advanced
Pricing
Beginner: $89/month
Standard: $149/month
Professional: $299/month
Agency: $649/month
9. Iconosquare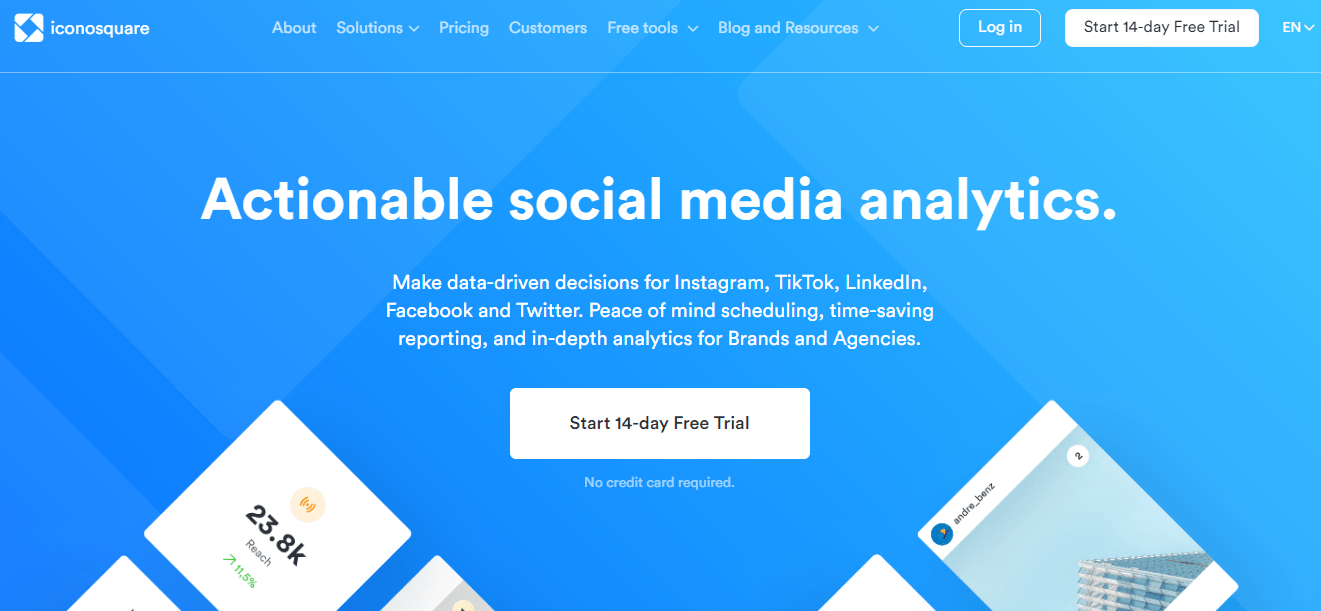 Looking to make data-driven decisions on LinkedIn? Then this may be the LinkedIn analytics tool for you.
This social media management solution has the three most crucial features for marketers—scheduling, automated reporting, and detailed analytics.
Besides these crucial functions, the tool also has monitoring capabilities through which you can analyze engagements and perform social media listening functions.
Iconosquare's reporting tool is elaborate. You'll get social media performance reports to help you understand how your audience is engaging with your content. You can discover who interacts with your content the most and know the best time to post it as well. There's more. The reporting is automated and can be scheduled to go out to clients regularly.
The tool also works with most social media platforms, including TikTok, unlike other social media reporting tools.
It has customizable dashboards that you can use to import and view any kind of data you want. This includes sourcing data from all your social media platforms, so you can make your comparisons easily.
Iconosquare has a good publishing tool as well. Here you can add captions, images, videos, links, times and dates, and keep them in your drafts. You can then schedule these posts to go live at later dates.
Also, you get to have a media library for images and videos and another collection of captions and hashtags in a different section.
Key Features
Social media monitoring and listening
Supports unlimited team members
Automated reporting
Competitor data and analysis
Content library
Social media publishing
An industry benchmark for profile comparisons
Pros
Has both web and mobile applications
Provides advanced analytics
You can schedule posts for multiple platforms
14-day free trial
Cons
The monitoring tool does not support Twitter mentions and replies
No free plan
Usability
Easy to use
Tool Level
Intermediate
Pricing
Pro: $49 per month billed annually
Advanced: $79 per month billed annually
Enterprise: Custom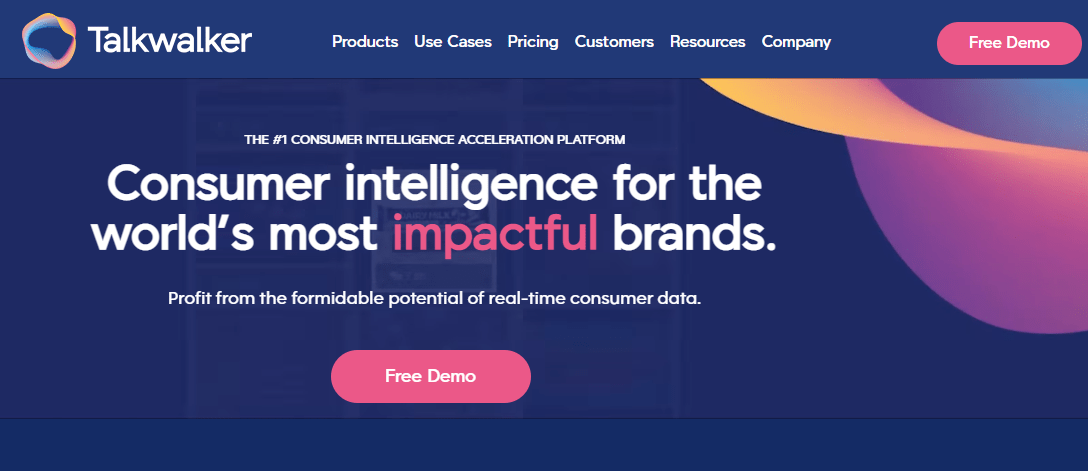 This is one of the LinkedIn analytics tools you can use if you're looking to stay ahead of your social mentions. It's an AI-powered software that analyzes what happens on social platforms and gives you real-time feedback.
This all-encompassing tool has many functions, including marketing intelligence, social marketing, and customer intelligence. This makes it suitable for both small businesses and large enterprises.
Talkwalker has an intuitive reporting and analytics feature that produces real-time reports, which help you gauge your performance on various social media platforms. So if you're looking for a tool to help you with product research and market research, this is the ideal tool.
Besides helping you optimize your social media presence, this tool also offers marketing insights with its consumer intelligence feature.
Unlike most social listening tools that only search for mentions through text, this tool tracks images, logos, videos, and audio too. This gives you a holistic view of your brand's mentions beyond what's being said on social media.
With all this data, it automatically generates reports, allowing you to create dashboards and present your findings. You can come up with actionable insights for your audience and share those with them from a uniform platform.
For an even more effective social media strategy, you can integrate this social intelligence software with your social media management software like Hootsuite.
And the best part? This is one of the few social media analytics tools that gives you access to historical data of up to five years to help you monitor trends.
Key Features
Social tracking analytics
Automated reporting
Text, image, and speech recognition
Social media monitoring
Sentiment analysis
Competitor brand analysis
Historical data
Pros
You can integrate it with your LinkedIn management tools
Excellent visuals for identifying trends and engagement
A full-scale listening tool
Cons
It's an advanced tool with a steep learning curve
The user interface is not simple
Non-transparent pricing
Usability
Training required during onboarding
Tool Level
Advanced
Pricing
All pricing is POA so you have to contact sales for a custom price.
11. Inlytics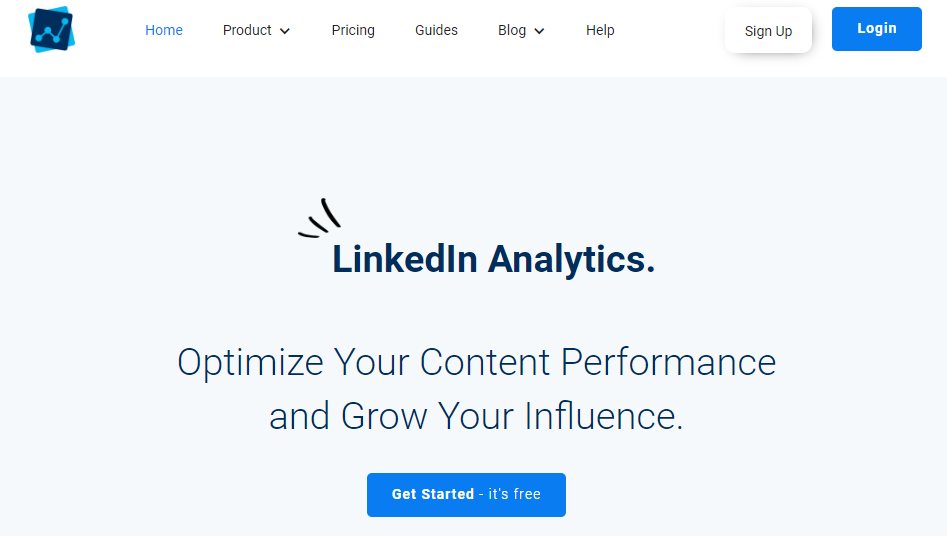 Unlike the tools mentioned earlier, which can be used for numerous social media platforms, Inlytics is specifically a LinkedIn analytics tool.
This tool is suitable for individuals and small businesses who only want a tool to track their LinkedIn presence.
It's useful for monitoring and optimizing how your LinkedIn posts perform, increasing your engagements, and providing other insights you may not find in the built-in LinkedIn analytics tool.
It's designed to perform all these functions on your profile, and ultimately across teams.
Since LinkedIn's built-in analytics tool lacks many features, it's one of Inlytics' selling points. This is especially so for marketers looking for a simple yet detailed LinkedIn-focused tool.
This tool generally benefits individuals who are looking to grow their follower base, increase engagement and generate leads through LinkedIn.
Key Features
LinkedIn performance dashboard
Analytics tracking
Workflow management
Post scheduling
Content and customer management
Profile recommendations
Pros
Affordable tool for small businesses
Free plan available
Detailed analytics
Cons
You can get most functions on LinkedIn Premium
Usability
Easy to use
Tool Level
Beginner
Pricing
For Companies and agencies, pricing is POA so you have to contact sales for prices.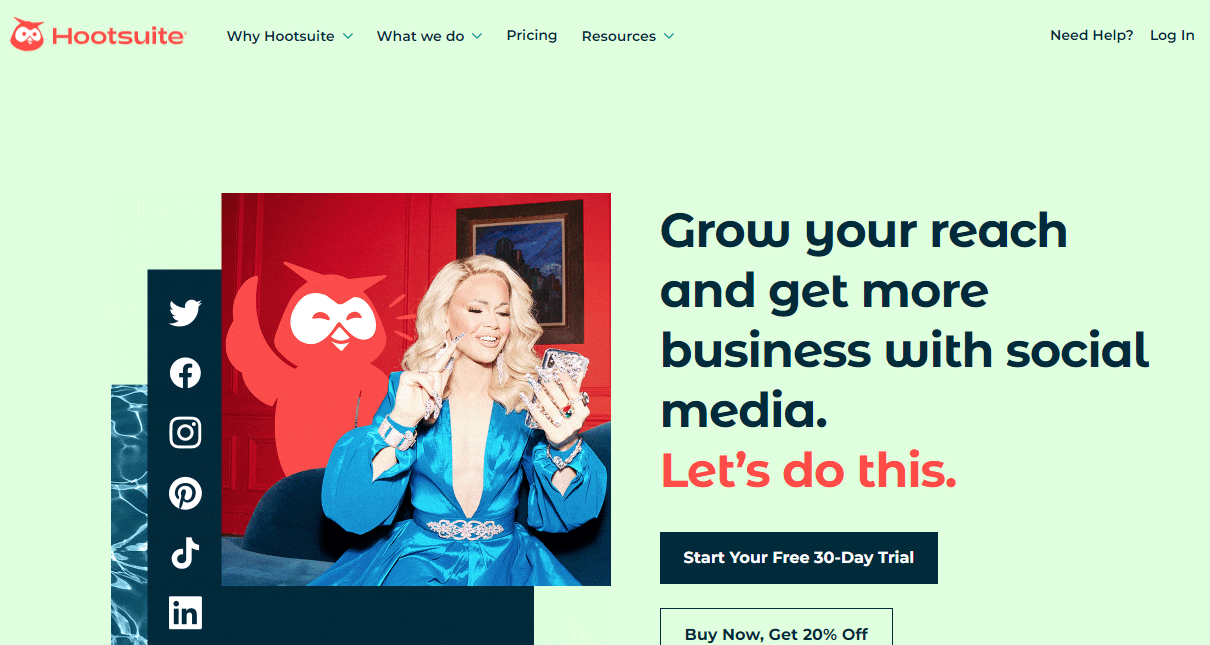 This is a LinkedIn analytics tool that's best for businesses looking for a holistic social media management solution.
It contains a host of crucial features that every social media manager needs. And for additional functions, it provides numerous integrations with over 150 tools.
With these integrations, marketers can connect to external tools and make their operations easier. Its user interface is easy and interactive too.
Through Hootsuite, you can easily access your LinkedIn dashboard and use the tool's reporting feature to monitor your performance data alongside that of other social media platforms. You can also view your follower and visitor analytics, and measure your ROI.
It's also possible to monitor trends in engagements on your posts and other key metrics like impressions and clicks. You can also set growth rate benchmarks using Hootsuite to help improve your marketing goals.
Hootsuite also features a social media listening tool that helps you keep an ear out for what people are saying about your brand on LinkedIn and other platforms. This way, you can control your brand reputation and get involved in important conversations in your industry.
However useful, this tool can be a bit pricey, therefore, it's important to weigh the value it brings to your business before committing financially. Luckily, they have a 30-day free trial that you can take advantage of.
Key Features
Multiple social network integrations
Social media publishing
Social media analytics platform
Customizable reports
Social monitoring and listening
Sentiment analysis
Competitor analysis
Pros
Free 30-day trial
A free plan is available
All-in-one social media management tool
Cons
Lower tiers have limited features
Usability
Slight learning curve
Tool Level
Beginner/Intermediate/Advanced
Pricing
Free: $0
Professional: $49/month
Team: $179/month
Business: $739/month
Enterprise: Custom
13. Shield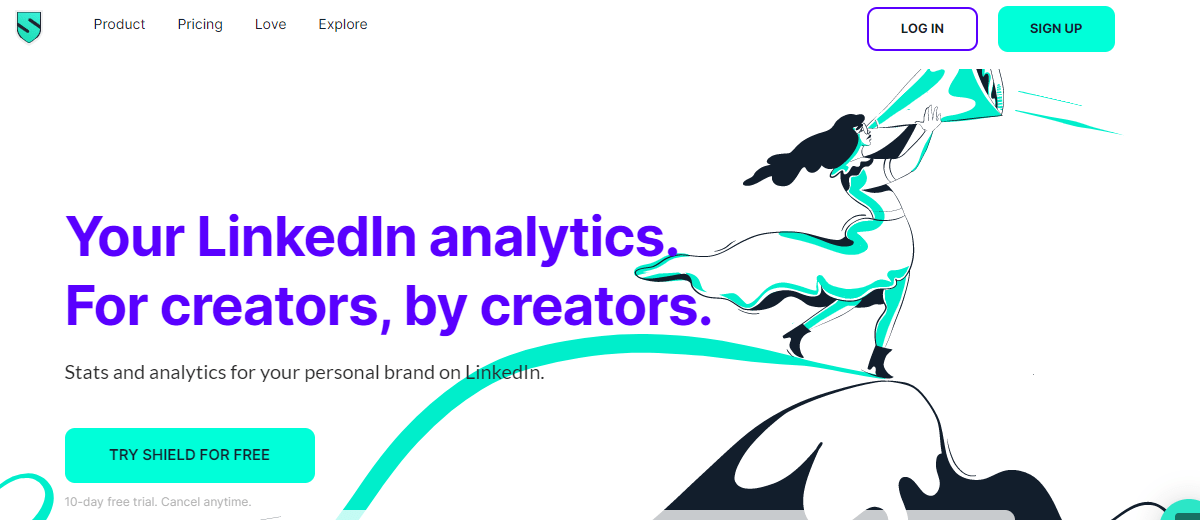 Just like Inlytics, Shield is another LinkedIn analytics tool whose sole focus is on LinkedIn. It's suitable for creators, influencers, and small businesses.
With this app, you get access to your key metrics like follower analytics, network statistics, and engagement stats. You can then use this data to grow your LinkedIn network, connect with your audience, and monitor your growth.
This application also helps you figure out which posts are performing the best and identify the best time to post content for maximum engagement.
Shield automatically produces visuals and reports with actionable insights which are easy to understand.
The analytics breakdown on this tool is detailed. You can view your engagements and impressions per post or on average. Additionally, you can gather insights about your profile based on your audience's demographics, location, company size, and job title. It's also possible to filter your reports by format, views, keywords, or engagement.
All these reports can also be exported as a CSV file for offline use, or to share with team members or clients. The tool also provides you with enough customization options and is easy to navigate.
Key Features
Keyword and hashtag search
Ability to see active posts on the feed
Measure and benchmark your performance
Content labeling features
Network statistics
Historic data of up to 6 months
Profile statistics
Pros
10-day free trial
Affordable packages
Filtering options on reports are immensely useful
Cons
Usability
Easy to use
Tool Level
Beginner
Pricing
Starter: $6 per month paid annually
Creator: $12 per month paid annually
Influencer: $19 per month paid annually
Shield for Business: $16.67 per month paid annually
Frequently Asked Questions
1. Which LinkedIn analytics tool is the best and why?
Here's a list of some of the best LinkedIn analytics tools in the market:
Social Status
SocialPilot
Rank Ranger
Klipfolio
Whatagraph
DrumUp
Brand24
ReportGarden
Iconosquare
Talkwalker
Inlytics
Hootsuite
Shield
2. What analytics does LinkedIn have?
LinkedIn has a built-in analytics tool that monitors and reports the performance of your LinkedIn company page or personal profile. It measures key metrics such as impressions, followers, clicks, likes, shares, and comments. However it is quite basic and most marketers need a third-party analytics tool for more comprehensive analytics and reporting.
3. Are LinkedIn analytics free?
The built-in LinkedIn analytics tool is free. As for the third-party LinkedIn analytics tools, these come at a fee. However, some have basic free packages you can take advantage of.
4. What are the most important LinkedIn analytics?
Some of the most important LinkedIn analytics metrics to track and report include:
Impressions and Organic Reach Rate
Video Views and Video View Rate
Engagements and Engagement Rate
Follower growth
Clicks and Click Through Rate
Follower Demographics
5. How do I increase my engagement on LinkedIn?
Some of the ways you can increase your LinkedIn engagement with LinkedIn analytics tools are:
Using engagement data to focus on better-performing posts
Tracking brand mentions to become a part of important conversations
Get audience insights to understand and target them better
Get content suggestions to regularly post fresh content on LinkedIn
Using hashtag suggestions to maximize engagement
Take Your LinkedIn Campaigns to the Next Level
Third-party LinkedIn analytics tools give you that extra boost you need to take your campaign performance to the next level.
With charts and in-depth data, you'll easily be able to track all your LinkedIn metrics, including engagements and impressions.
Most of these tools help you compare LinkedIn data alongside data from other social media platforms. You also get to track your competitors and gauge your brand against industry benchmarks.
Besides, extra features like sentiment analysis and social listening only boost your analytics further. What's not to like?
All the best in picking a suitable tool for your LinkedIn campaigns.