With so many metrics available for tracking your performance on social media it might seem at times to be a bit overwhelming. Social marketers are continually inundated with metrics and that's what makes our job so tough.
Last month our friends at Buffer published a great list of 61 Key Social Media Metrics. Cherry-picking a handful of metrics or KPIs that your business cares about is a great way to put theory into practice.
In this post, I'd like to share our list of what we believe are the 6 most important social media metrics you should be tracking and reporting on weekly, fortnightly and/or monthly. The great thing about these particular metrics is that they are channel agnostic. So no matter what social platform(s) your business uses, they will all be relevant.
We call this the Social Media ROI Framework: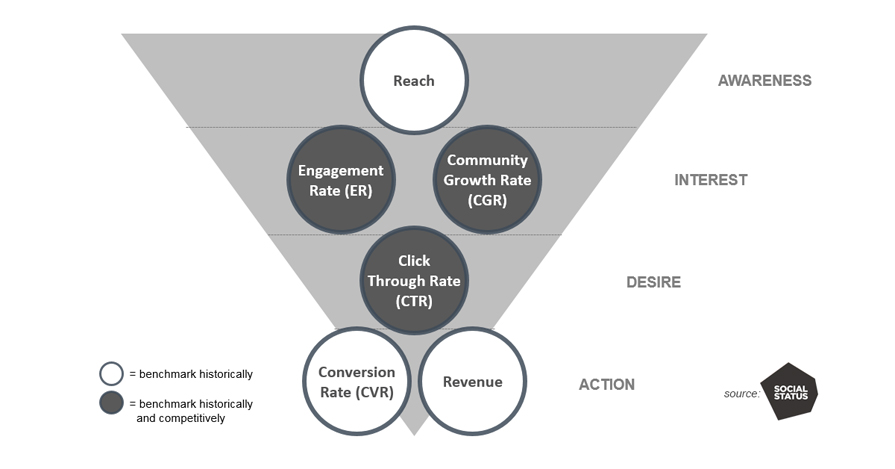 The metrics are overlayed on the typical AIDA (Awareness, Interest, Desire, Action) marketing funnel. Despite the fact that the funnel is over 50 years old, it is nonetheless a great way to communicate the value of these metrics to everyone in the business.
Let's look at each metric in detail:
| Metric | Calculation |
| --- | --- |
| Reach | Unique people who saw your posts |
| Engagement Rate (ER) | (Post interactions / Number of posts / Community size) x 100 |
| Community Growth Rate (CGR) | ((Community size this period – Community size last period) / Community size last period) x 100 |
| Click Through Rate (CTR) | (Clicks on links / Posts with links / Community size) x 100 |
| Conversion Rate (CVR) | (Website conversions / Clicks on links) x 100 |
| Revenue | Total revenue generated from social posts |
Reach
This is an important number to give the boss because it should be the biggest number you have. Over time it will decline as organic reach inevitably continues to be crunched. If you see organic reach dropping, it may be time to consider paid reach and the amazing potential it has.
---
Engagement Rate (ER)
ER is your best measure when answering the question about how effectively your content resonates with the audience. ER is your finger on the pulse of content performance. If you see advocacy interactions like Shares and Retweets going up, you're on to a good thing.
---
Community Growth Rate (CGR)
As marketers transition their social strategies to more of a paid model, CGR will continue to be important because your community should be one of the most cost-effective audiences to reach. If your community isn't large, they will fatigue faster. Growing this base is really important in the new world of social as a paid channel.
---
Click Through Rate (CTR)
This is where we start to get down to the pointy end of the AIDA funnel. CTR will give an indication of how effect your content is at driving visitation to your website. If your objective on social is purely engagement then perhaps this metric won't be as important to you. But for the vast majority of marketers, there will be pressure to prove the business value of social media. Comparing the CTR of social against your other digital channels like e-mail, display, paid search etc is a great way to communicate that value.
---
Conversion Rate (CVR)
The Conversion Rate is one of the most important metrics sitting right at the bottom of the funnel. This answers the ROI question and will really help you communicate the value of social to the business. Even if you don't sell online, CVR is still absolutely applicable. In fact it should work for every single social marketer. Think of the kind of conversions that exist on your website, be it filling out the contact form, downloading a document, viewing a key page, signing up to your newsletter, etc. Like the CTR, you should benchmark your CVR against other digital activity, especially paid search.
---
Revenue
This metric will only be relevant to marketers who sell products online and represents the aggregate revenue generated during the reporting period. This metric is pure social ROI.
---
Benchmarking
Whether you report weekly, fortnightly or monthly, you will need to track each metric against your performance during the previous period. As the legend in the chart above implies – ER, CGR and CTR have the added benefit of being able to be benchmarked against competitors. This will provide a great way to set future performance targets, rather than just plucking numbers from thin air. It will also allow you to answer that question of whether your performance is actually good or bad. Without competitive benchmarking you won't have any context upon which to answer that question.
To assist in automating your benchmarking and reporting, get started with a free Social Status account now.
We'd love to know what you think of the Social Media ROI Framework. Tweet your thoughts and make sure to include the #socialstatus hashtag.