Social Status recently conducted an 'Australian Higher Education Industry Facebook Report' where we analysed 1,499 Facebook Posts from 40 Universities to discover what's working in the world of higher education.
The results were interesting, and it seems some university social media teams are 'down with the kids' more than others.
Perhaps one of the more interesting examples of this is James Cook University.
With just over 57K followers, their fan base is considerably smaller than other universities. However, an understanding of their target audience meant that a clever 1-day campaign consisting of 3 posts was the winning formula for interaction success.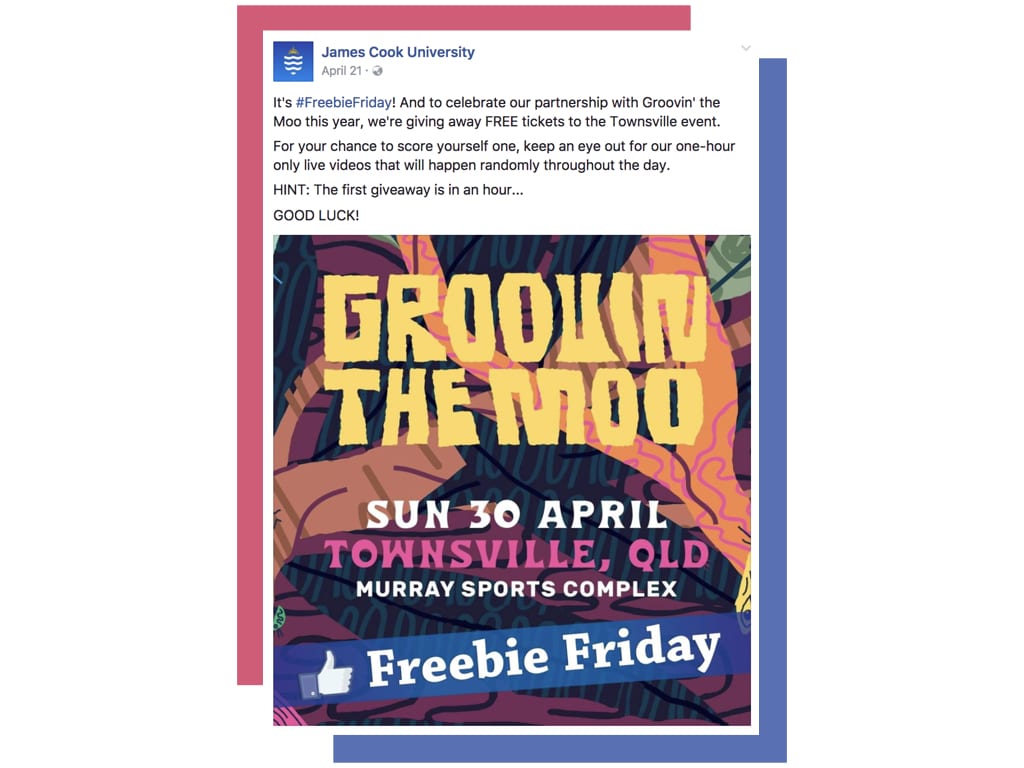 On April 21st 2017, James Cook University launched their Facebook Campaign to win Groovin' The Moo tickets with a static image announcing that the competition would be taking place throughout the duration of the day.
The conditions meant that audience members would need to stay active on their page throughout the day while waiting for the Live Videos to enter – a mechanism which built hype and excitement around the campaign.
Now there were a number of things that attributed to the three post's 8K comments and 28K views;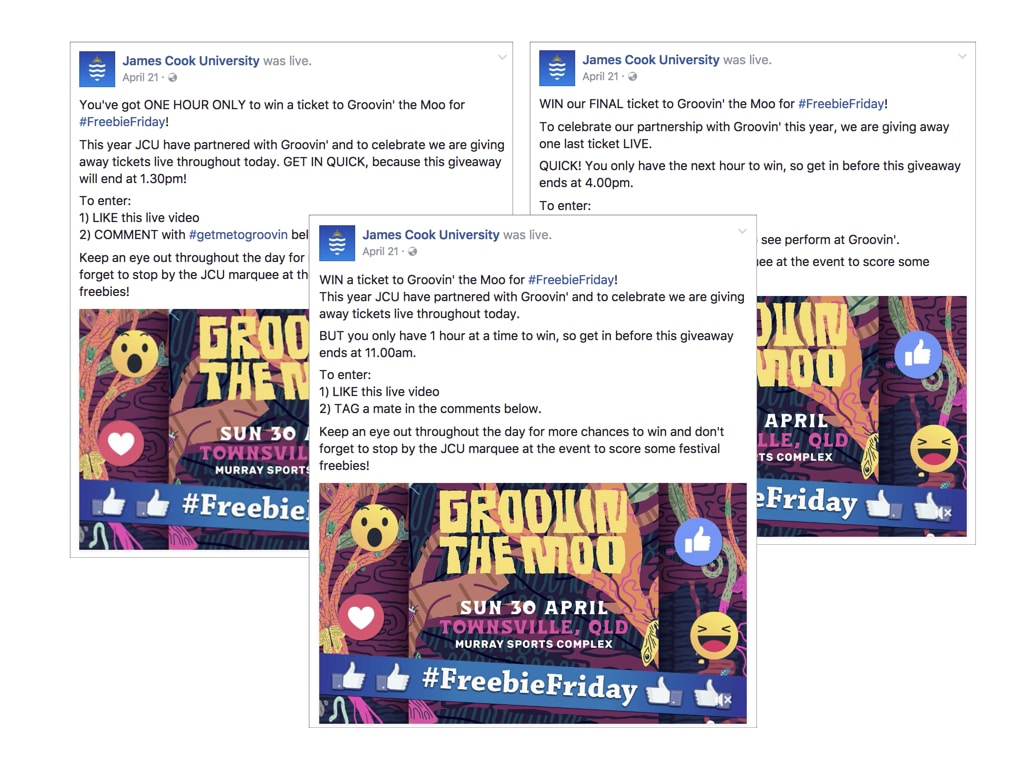 Like and Comment-to-Win Entry Mechanic
The like and comment-to-win entry mechanic is popular when the ad objective is engagement as we saw in this campaign. This mechanic attributed to the 8K comments received across the three posts as well as a 129.5% Comment vs. Reactions Ratio (average for competitors was 21.8%).
Facebook Live Video
Rather than using static assets, all three competition posts were in the form of a looping Facebook Live video. With users commenting on Facebook Live videos at 10X the rate of regular videos, this media form attributed to a significantly larger viral audience reach to JCU's 57K followers, resulting in 28K views across all three posts.
1 Hour Time Window
Perhaps the key to this innovative promotion was the 1 hour time intervals. This created a sense of hype and immediacy to the audience, and exploited viral engagement.
If you would like to receive a copy of our 'Australian Higher Education Industry Facebook Report' or are interested in a specific industry report – please email [email protected].