The attack on traditional TV viewing continues.
By 2019, 80% of the world's internet traffic will be video. And Facebook, Twitter & YouTube seem to be leading that front, all announcing their plans to compete with Netflix and tap into original video content streaming.
But why dabble into the highly competitive SVOD market?
The integration of original video content onto the platform will of course mean higher brand advertising dollars that would otherwise have gone to television. But the push to retain users, particularly the young demographic, is also a chief driving force of this operation. And like recent Facebook endeavours, the launch of original video content streaming seems to be another swipe at Snapchat. Facebook intends to create content that appeals predominantly to millennials (the teen and young adult demographic), which is Snapchat's principal market.
Snapchat themselves have been in talks with many of the same companies as Facebook for it's 'Disover Section' – so the race to establish preference and dominance amongst social media channels is definitely underway.
So what types of shows are we expected to see from Facebook?
The initial push of content, which could be ready as early as June this year, and is said to be classified into two distinct tiers; a marquee tier – bigger budget production and lengthier watching time (similar to the that of the Netflix original shows) and a lower tier for 5-10 minute length, less expensive shows that refresh every 24 hours.
One of the programs said to be in production at the moment is a reality dating show. The show is said to introduce couple's in a VR setting (Facebook Spaces perhaps?) before the contestants meet in real life. Clever integration Facebook.
Enter YouTube. The home of user generated videos. YouTube announced last week that they would be producing a range of "star-studded shows for audiences around the globe" (YouTube). As well as partnering with celebrities such as Kevin Heart, Ellen Degeneres, Katy Perry, Demi Lovato and Ludacris, the platform is leveraging off their highly visible and influential 'YouTubers' such as Casey Neistat and Jackie Aina.
YouTube's Business Chief, Robert Kyncl, says the strategic move into the SVOD market was a way of bucking the trend of declining ad-supported original series.
"Five years ago, 85% of all original series were ad-supported. This year, that number has fallen to just over two-thirds. And with significantly more content coming to subscription services, that shift is accelerating. So we see these shows as a way for us to partner with [advertisers] to buck this trend."
Speaking of partners, YouTube has announced that Johnson & Johnson Consumer Brands will be their first advertising partner – signing on as the exclusive sponsor of Best.Cover.Ever, a talent competition hosted by Ryan Seacrest, that seeks to make talent competition accessible to YouTube viewers.
Much like, Facebook, YouTube plans to monetise these shows through mid-roll ads meaning that these services will more than likely be free, rather than asking users to pay a subscription fee like Netflix.
Twitter announced last week that they too would be jumping on the original video streaming bandwagon. The launch will come in the form of 16 live streaming content deals showcasing original live programming, live games and events, live syndications, extensions of existing live deals, and new always-on live streaming content.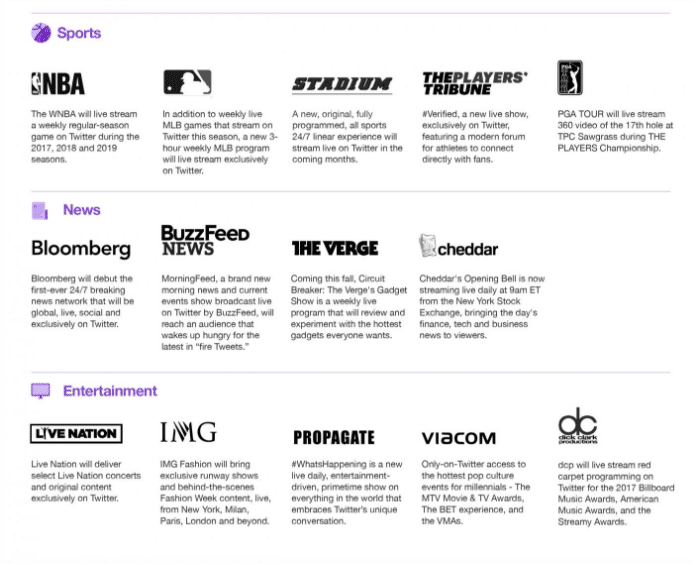 Twitter too seems to be tapping into the millennial market.
"In Q1 this year, our second greatest quarter since launching live video on Twitter, we delivered 800 hours of live streaming premium video content across more than 450 events, driving an audience of 45 million unique viewers. And this audience is global, mobile, and influential, with 55% of our logged-in live viewers being under the age of 25" (Twitter).