With the never-ending surge in digital advertising and social media marketing, there's a new social media career which has grown in demand: the social media evaluator.
What is a social media evaluator?
A social media evaluator is a person tasked with assessing the performance of an organization's organic and paid social media content. Their remit goes beyond just quantitative (data) insights but also seeks to assess the qualitative (creative) aspects of the organization's social publishing.
Companies like Appen Global and Lionbridge are actively recruiting for Social Media Evaluation roles in 2020: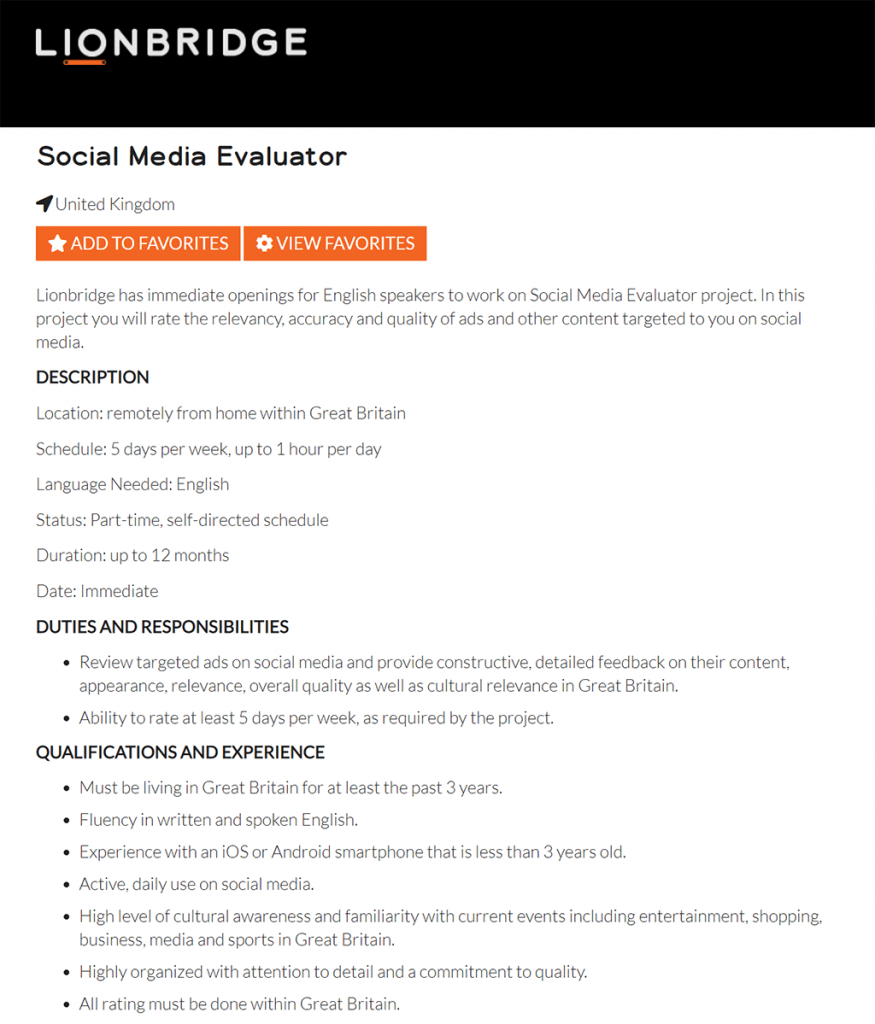 What does a social media evaluator do?
In the example above of Lionbridge's UK job description for a social media evaluator, they're specifically looking for people to review social media ads across 5 criteria:
Content: this relates to the quality of the image(s), headline, ad copy, ad description and call-to-action (CTA). Of course "quality" is subjective so what one person may rate as high quality, another may rate as "low quality". For this reason, companies hire multiple social media evaluators and take the average responses from their aggregate ratings
Appearance: this relates to how the ad looks in the News Feed or Stories Feed alongside organic posts. Does it stand out? Is it eye-catching? Does it motivate the user to want to tap the ad to find out more?
Relevance: is the ad relevant to the target audience? Does it use appropriate language, terminology and/or slang? If people are depicted in the ad – do they adhere to the target demographic age, ethnicity and demographic profile?
Overall quality: based on all factors above, how does the ad rate overall?
Cultural relevance in Great Britain: since the Lionbridge role is based in Great Britain and involves evaluating ads targeted within Great Britain, this criteria relates to how the ad creative resonates to local audiences. Of course, this can only be truly evaluated by local residents who understand the cultural dynamics across Great Britain.
Tools for social media evaluators
There are several powerful social media tools that can help you if you're planning to apply for a social media evaluator role. These tools give you the functionality to make your application stand out and help you impress your future employer. Tyler Tringas from Earnest Capital says it best:
How to apply for a job and instantly be in the top 1% of candidates: do a small sample of the work you're applying to do and share it.

— Tyler Tringas (@tylertringas) August 6, 2020
1. Facebook Ad Library
Ever since the 2016 US Presidential Election, Facebook started implementing more transparency tools to provide all users with greater oversight across advertiser activity. Facebook Ad Library enables anyone to search for any organization by name and find the ads they're currently running on Facebook, Instagram, Messenger, WhatsApp or the Audience Network. It's an incredibly powerful tool.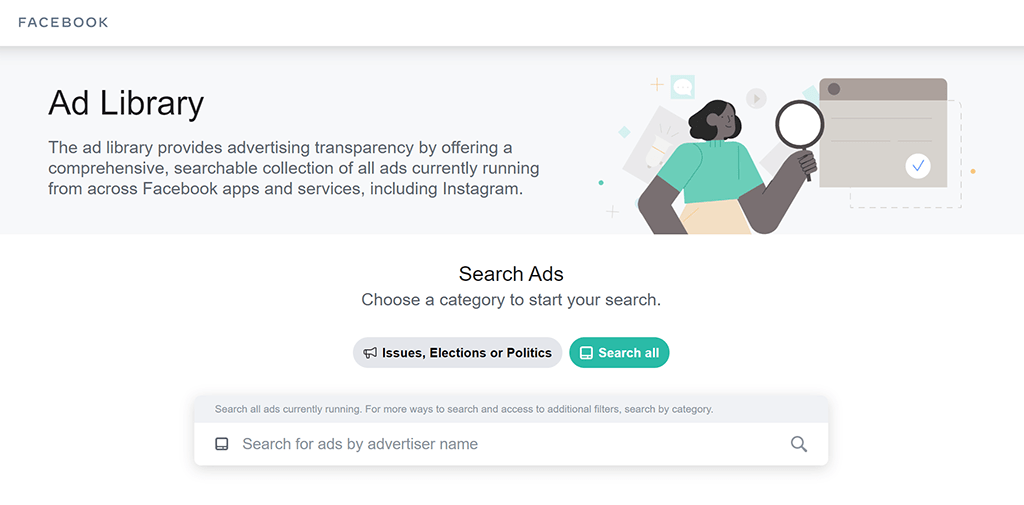 Aside from being able to see the ads an advertiser is currently running, you can also see the ad variations as part of the ad set. While Ads Library does not show you how the advertiser is targeting these ads, the variations can provide some insight into the thinking behind the advertiser's social paid strategy.
Related: Paid Media Mistakes B2B Companies Make.
Take the example below from The Royal Bank of Scotland (RBS). We can see they are currently running 210 ads in the United Kingdom – they are a highly active advertiser!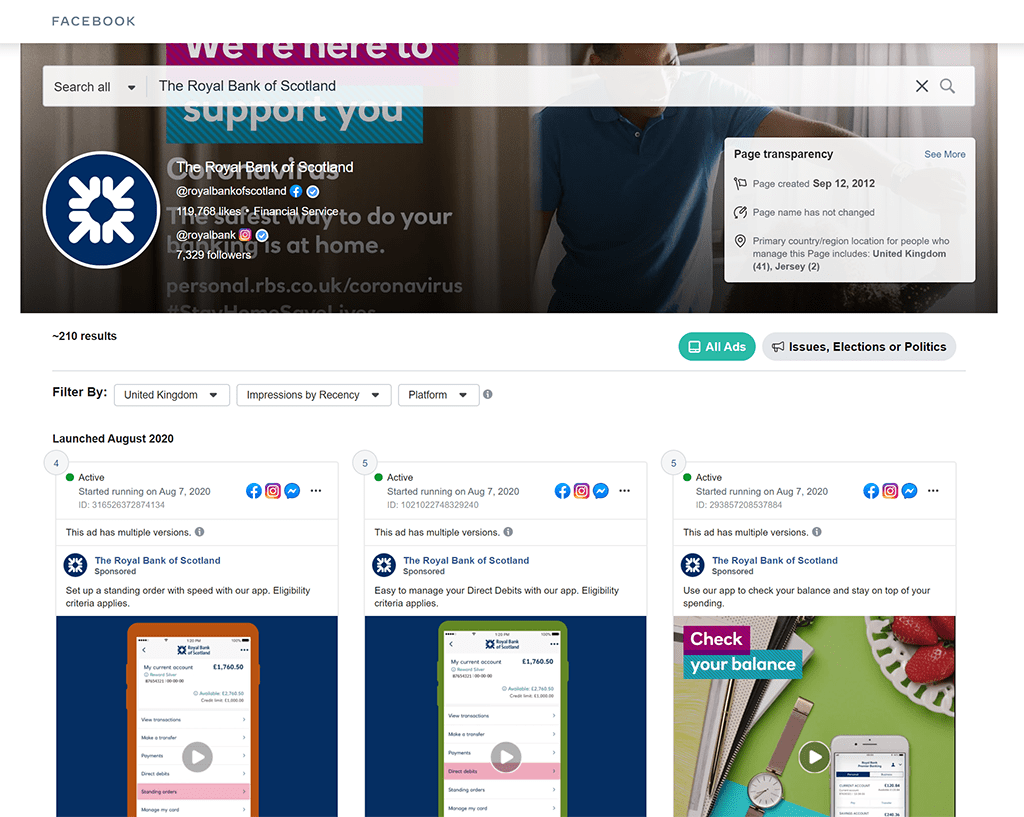 The number in the top left of each ad shows how many ad variations the advertiser is running. Usually these variations are simply to cater for the different ad placement types that Facebook offer (eg: News Feed, Stories, Right Column, Instant Articles, etc). However, sometimes you can see some interesting creative differences. Take the 1st ad as an example: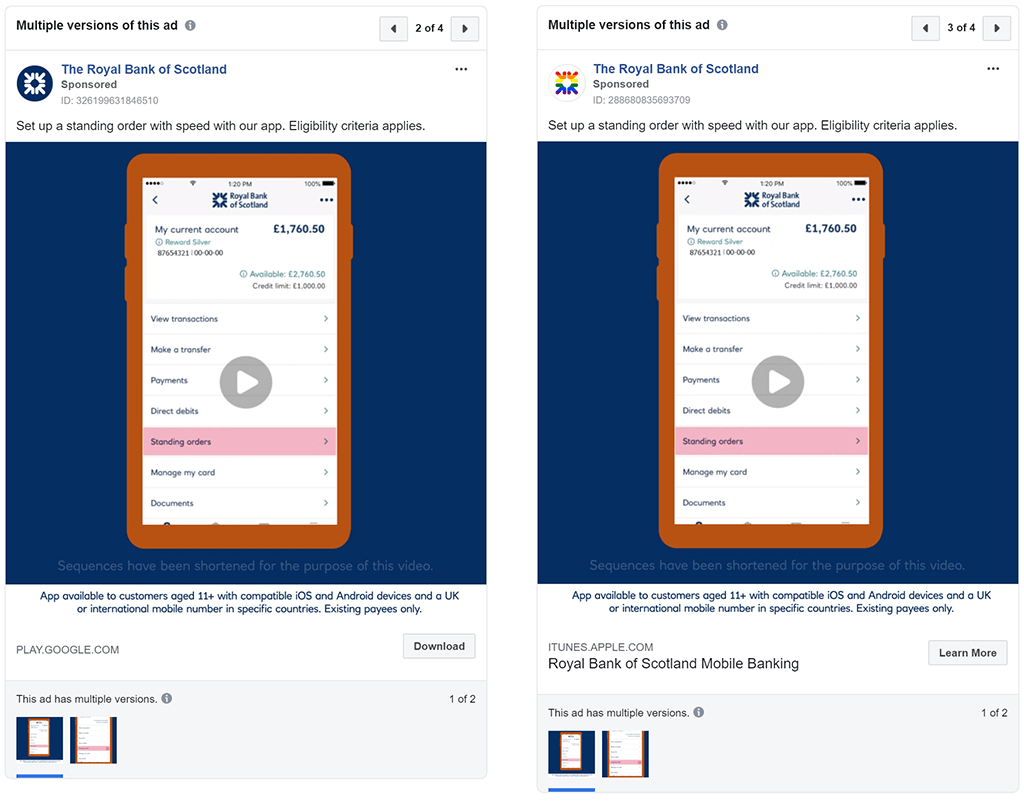 Here we can see variation 2 on the left has a CTA button linking to Google Play Store with the button text of "Download". While variation 3 has a slightly different CTA button text ("Learn More") linking to Apple App Store. There is no difference in the ad creative or ad copy however in the top left-hand corner you can see the profile picture of RBS in variation 3 has been switched to their LGBT version.
These kinds of subtle creative differences are an example of what a social media evaluator must identify and assess. Whether they are doing this across "owned" content or competitor content.
2. Social Status – Ads Analytics
While Ads Library shows what ads an organization is running, it can't show the actual ad performance. As a social media evaluator, you'll need to link the ad creative differences to ad performance metrics like Impressions, Cost Per Click, Cost Per Conversion, etc. Social Status Ads Analytics is an industry-leading tool for analyzing owned ad performance across the Facebook family of apps (Facebook, Instagram, Messenger, WhatsApp and Audience Network).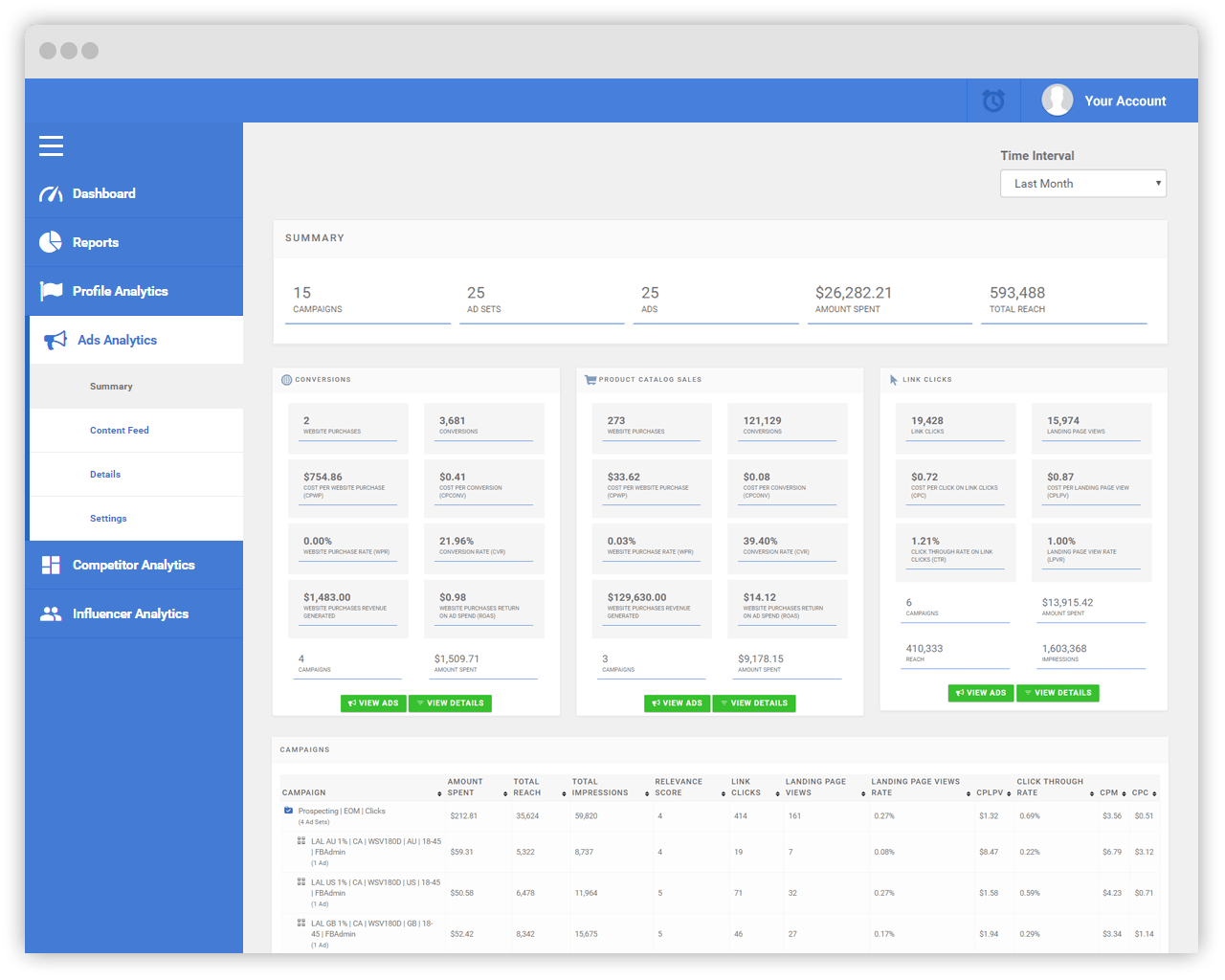 Ads Analytics enables you to connect any Facebook Ad Accounts you have Admin access to – even the lowest level called "View performance" is sufficient. Once connected, you can explore all historical ad performance for the ad account including creative and ad performance metrics for all 14 of Facebook's ad objectives.
Best of all, you can export Ads Analytics reports to Acrobat PDF, PowerPoint PPTX or Google Slides. As a social media evaluator, this tool will be instrumental in understanding the connection between ad creative and ad results. An ad which subjectively looks great may not perform as well as another ad which comparatively looks not as good.
3. Social Status – Profile Analytics
Profile Analytics is another tool from Social Status which enables you to look at all performance metrics in one place for Facebook Pages, Instagram Profiles, YouTube Channels, Twitter Profiles and LinkedIn Company Pages you have Admin access to: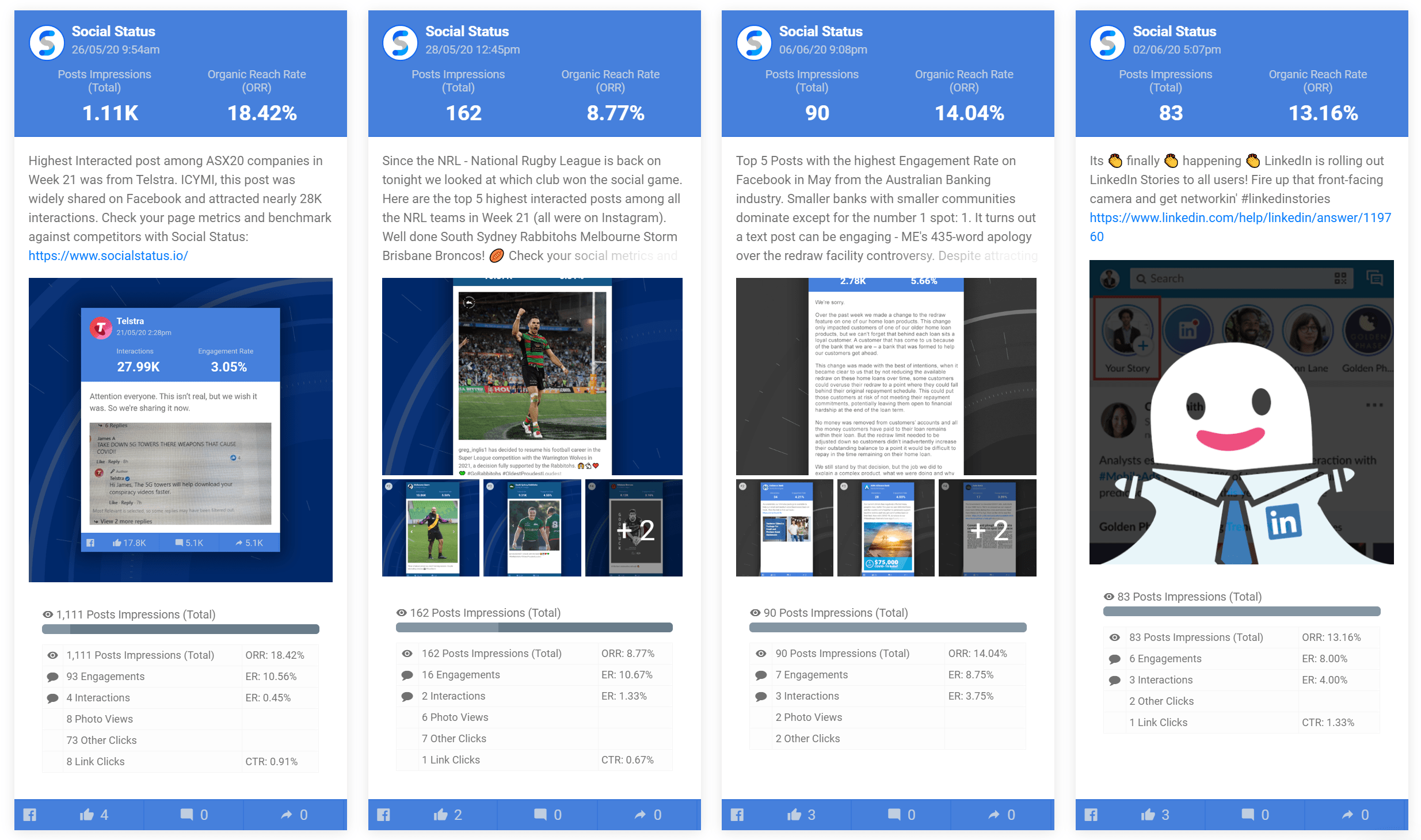 You can quickly see all post creatives and performance metrics together in the same view. This makes the task of evaluating social media posts a breeze! To do this manually across multiple channels would take hours of effort.
Applying to be a social media evaluator
With demand for social media evaluators increasing, now is the time to practice and refine your skills for this growing career opportunity. You can try all the tools mentioned above for free. Facebook Ad Library is free and Social Status offers a 14-day free trial as well as a Free-forever plan. Check out all the Social Status plans.