At Social Status we're always on the lookout for new digital marketing tools to help improve our marketing processes and increase efficiency.
With channel usage fragmenting and more media types constantly launched (hello Instagram Reels) it can be difficult to cover all bases with digital marketing. That's why digital marketers must rely on tools to assist in planning, creating, measuring, reporting and optimizing. We've compiled this list of the top digital marketing tools in 2023 based on our experience and the feedback we receive from our users. The list covers website, SEO, email, social, design and more. While these tools are mainly aimed at B2C marketers, B2B marketers can use many of these tools and tactics to drive performance and Social ROI. Specifically for B2B marketers, check out this article by Social Sellinator covering the top tools for Social Selling on LinkedIn.
The 17 Best Digital Marketing Tools for 2023
Social Status
It would be remiss of me not to include Social Status in this list of the best digital marketing tools! Social Status is your one-stop-shop for social media analytics and reporting. One of the biggest pain points facing social media marketers is reporting. Creating monthly, weekly or campaign reports is very time-consuming and error-prone. Social Status automates the entire process through with its social analytics suite consisting of 4 different tools:
Profile Analytics lets you connect all the pages and profiles you admin including:
Facebook pages
Instagram business profiles
Twitter profiles
YouTube channels
LinkedIn company pages
Pinterest profiles (coming soon)
Snap profiles (coming soon)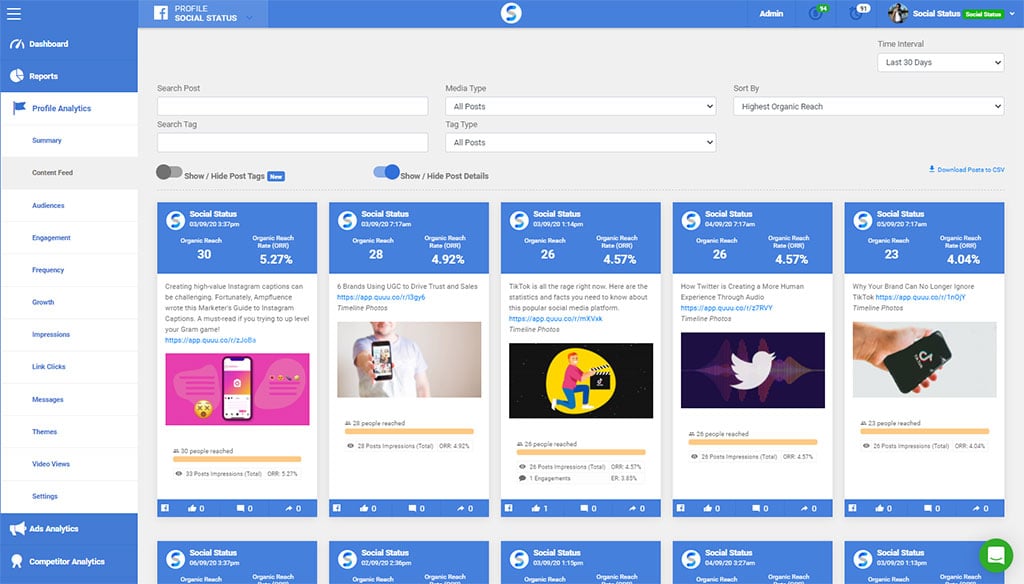 Once connected you can see all metrics for each post and access extensive and in-depth reporting. Social media reports can be exported in PowerPoint PPTX, Acrobat PDF, Google Slides and CSV formats.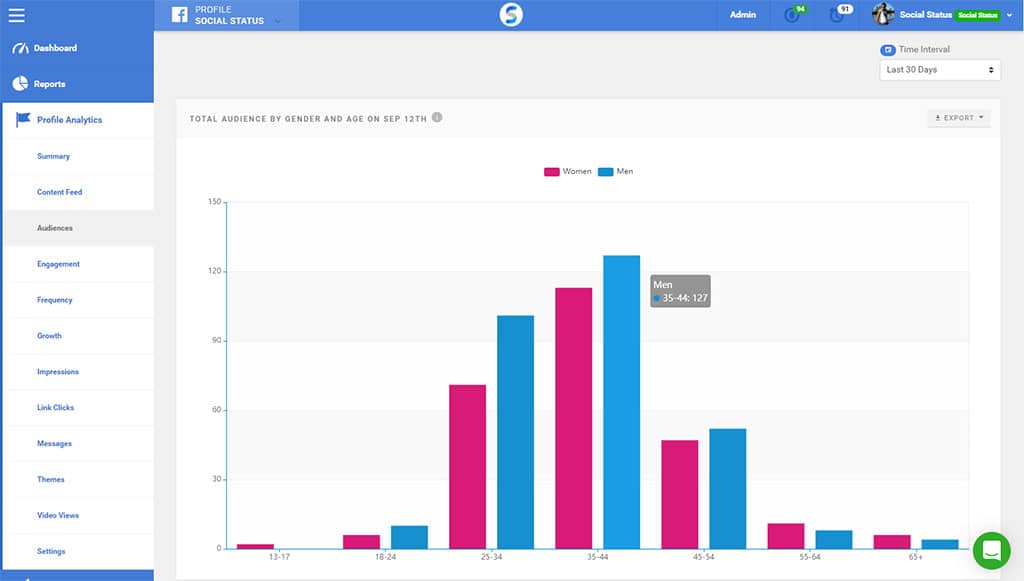 You can access demographics like age, gender, country and city for your fans and followers including any changes to these demographics over time.
Ads Analytics lets you connect your Facebook Ad Accounts and access in-depth reporting for your Campaigns, Ad Sets and Ads. Social Status supports all 14 Facebook ad objectives so no matter what campaigns you run, you'll be able to see results and create reports from your paid spend on Facebook, Instagram, Messenger and the Audience Network.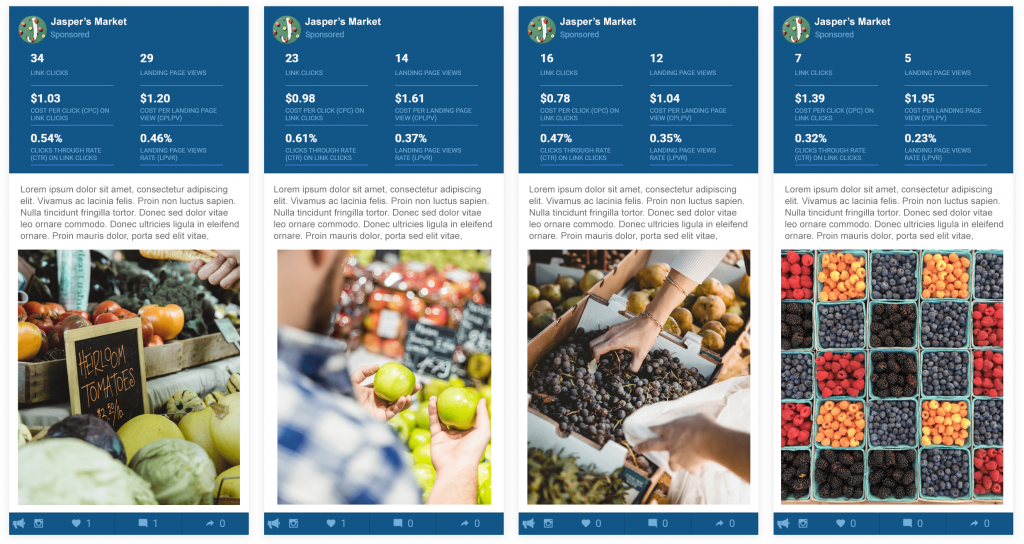 Competitor Analytics lets you connect any public Facebook Page, Instagram business profile, Twitter profile or YouTube channel. Competitor Analytics is perfect for doing competitor analysis, especially for new business pitches or ongoing monthly benchmarking. You can use this feature to spy on your competitors and understand what content is working for them and why.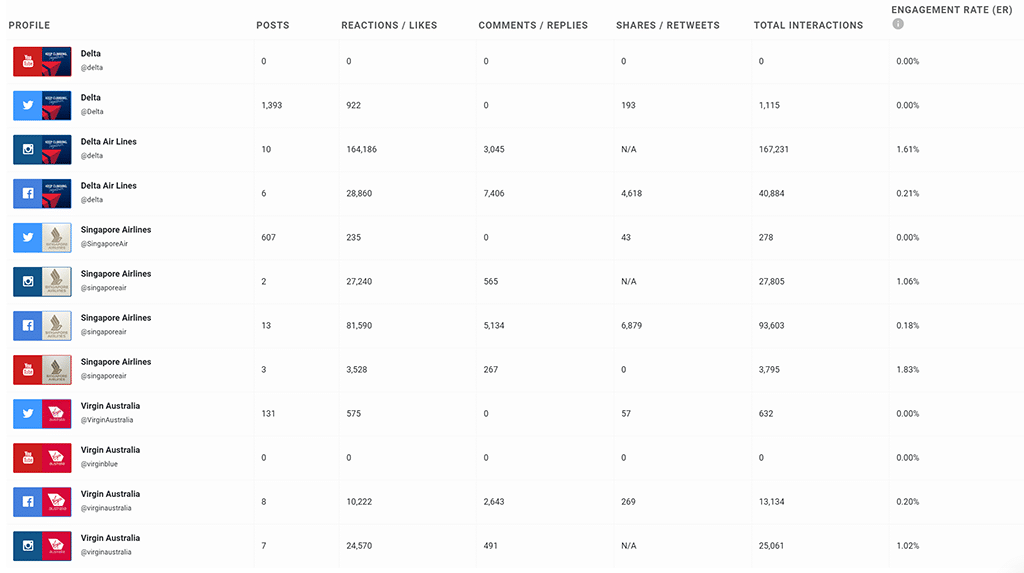 Finally, Influencer Analytics lets you connect Facebook pages, Instagram business profiles, Twitter profiles or YouTube channels of influencers you work with or plan to work with. If you work with several influencers (a few or even hundreds!) this is a great way to consolidate your campaign reporting into 1 report. Relying on influencers to share their performance with you can be time-consuming and difficult. With Social Status you can automate the entire analytics and reporting process!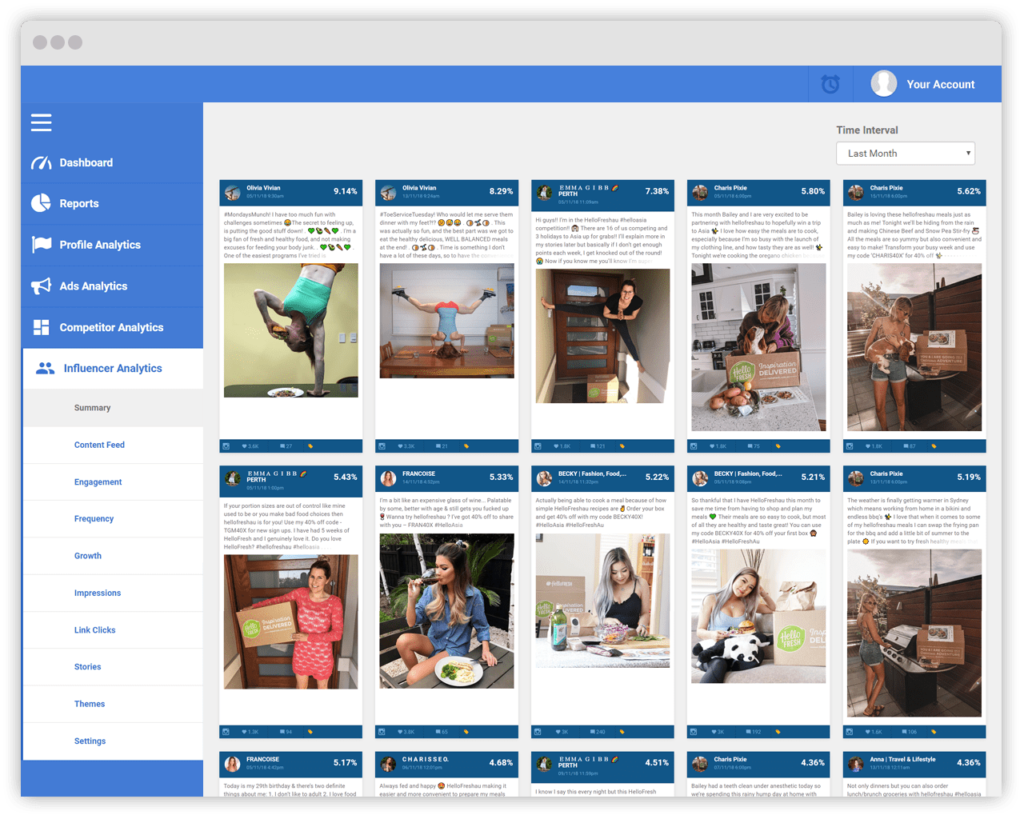 SEOptimer
SEOptimer is a Search Engine Optimization (SEO) audit and reporting tool. Its great for identifying and diagnosing SEO problems that might be negatively affecting a site from ranking higher on search engines. Digital agencies use SEOptimer to run SEO audit reports as a new business strategy. They can embed SEOptimer directly into their agency website to capture leads too.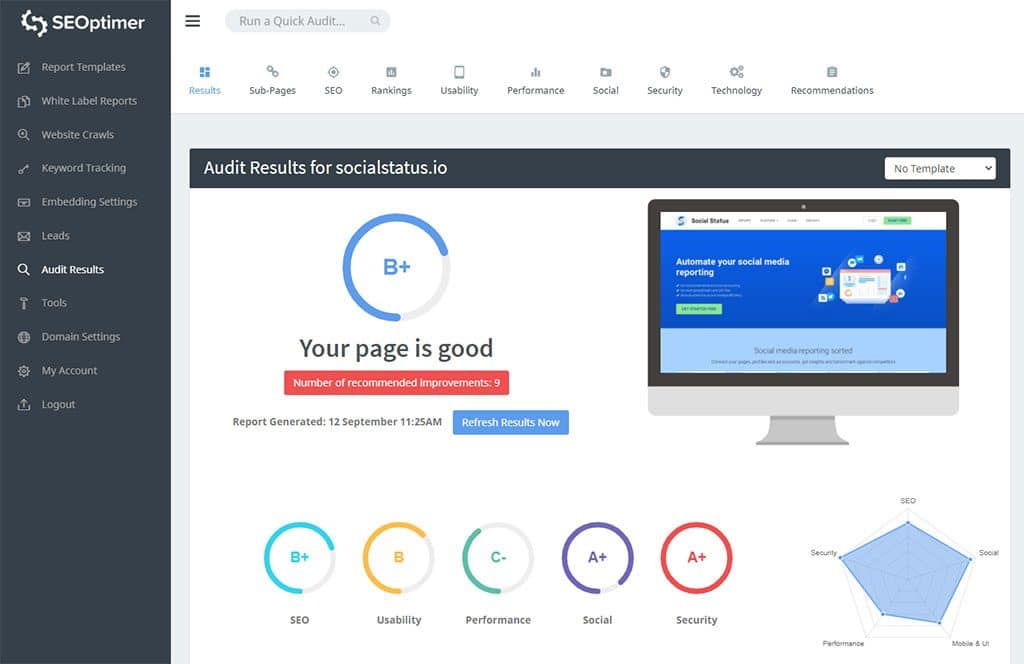 Another great feature of SEOptimer is their Keyword Tool which tracks the rankings of a site's main keywords. You can see how well a site is ranking (position on the search results page) as well as the estimated traffic it received from organic search. You can also see how much competition there is on each keyword.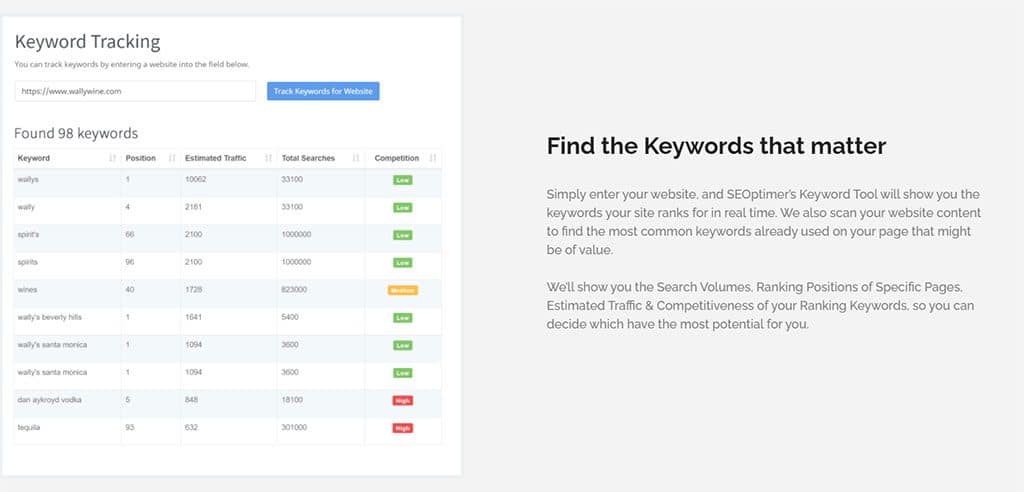 Clipchamp
Clipchamp is a video editor, compressor, converter and recorder all in one! With video being a key media type for social channels like Facebook and Instagram, Clipchamp is a super useful tool for editing and manipulating video. Its also got a webcam and screen recorder too. If you want to create video from scratch, Clipchamp also has templates with stock footage and stock audio too.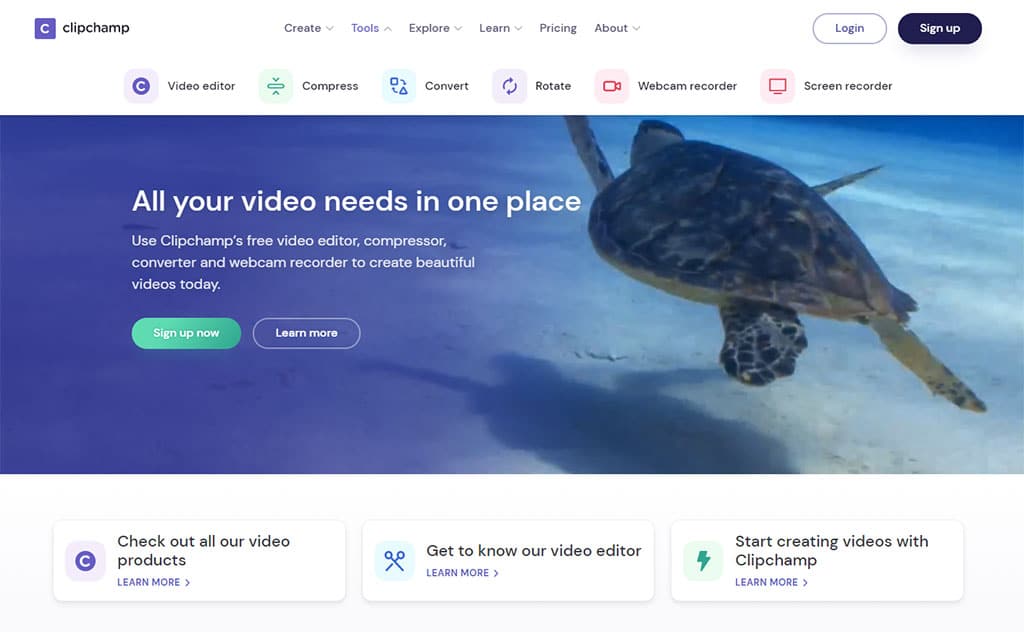 MobileMonkey
Everyone in marketing seems to be talking about Chatbots at the moment, and with good reason. Activity on Messenger, WhatsApp and other messaging tools has been skyrocketing. More organizations are realizing conversations lead to better click and conversion rates. While there are many chatbot solutions in market, I'm a big fan of MobileMonkey. They have a great OmniChat feature which pulls all messaging channels including SMS into one unified chat inbox – this is the key to customer service efficiency.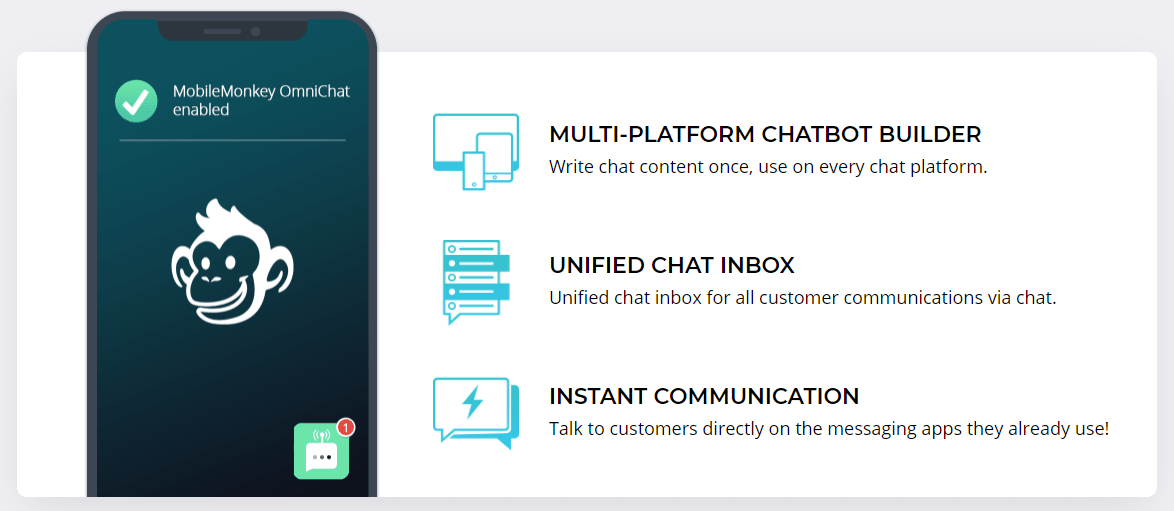 MobileMonkey also has heaps of templates, growth tools and integrations into Facebook Ads and Facebook Lead Forms. Its also really cost-effective with monthly pricing starting at just $21.75.
Content Snare
Content Snare is a really great app for agencies to manage the back and forth content workflow with their clients. The purpose of the platform is to be the single source of truth for all content. By moving all content workflow into Content Snare you can streamline the production workflow and reduce friction and delays in the process as content moves through the various stage gates. Some workflows can become quite complex when several people are involved especially managing revisions and approvals.
Once you've loaded some draft content into Content Snare and assigned due dates and tasks to people, I love how the tool then automatically reminds and follows up with the various people involved. I personally hate chasing people, so relying on the tool to do this is great.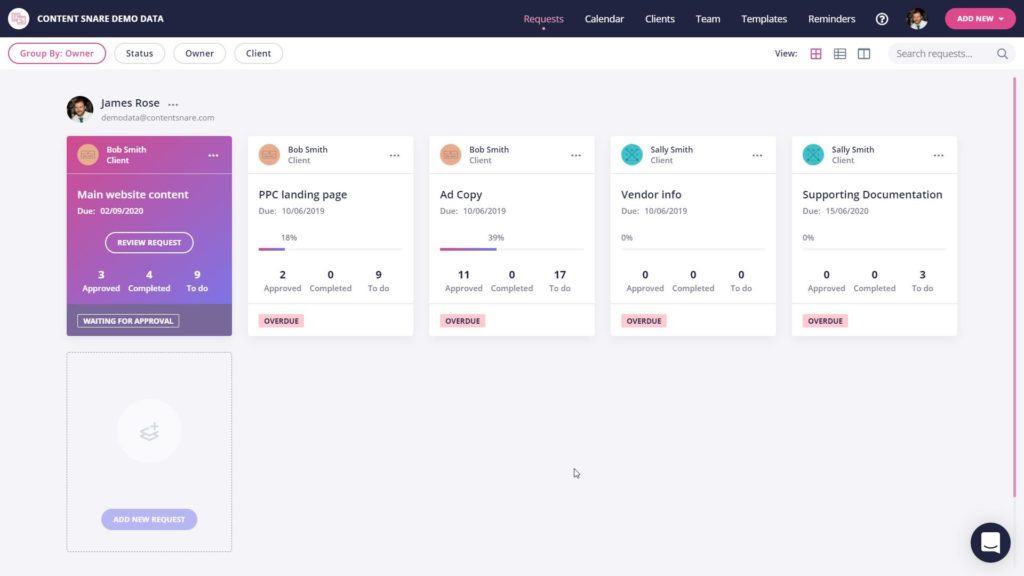 Awario
Awario is a social media monitoring tool. Social media monitoring is a fundamental activity that all digital marketers should perform. Also known as social media listening, it refers to the practice of finding and analyzing public mentions and conversations on social media channels by anyone (people, brands, influencers, etc).
This is an impossible task to do manually which is why you need a social media monitoring tool to help find and aggregate mentions. During my time before Social Status, I worked in advertising and digital agencies and used many different social media monitoring tools including Radian6 (now Social Studio), SM2, NUVI, Meltwater, Brandwatch, Mention.com and Trackur but the one that our team and I use here at Social Status is Awario. Not only is it easy to set up and cost-effective but its really powerful too!
One of my favorite features in Awario is their "Leads" tool which filters social media mentions based on what it believes are likely to be potential new business leads: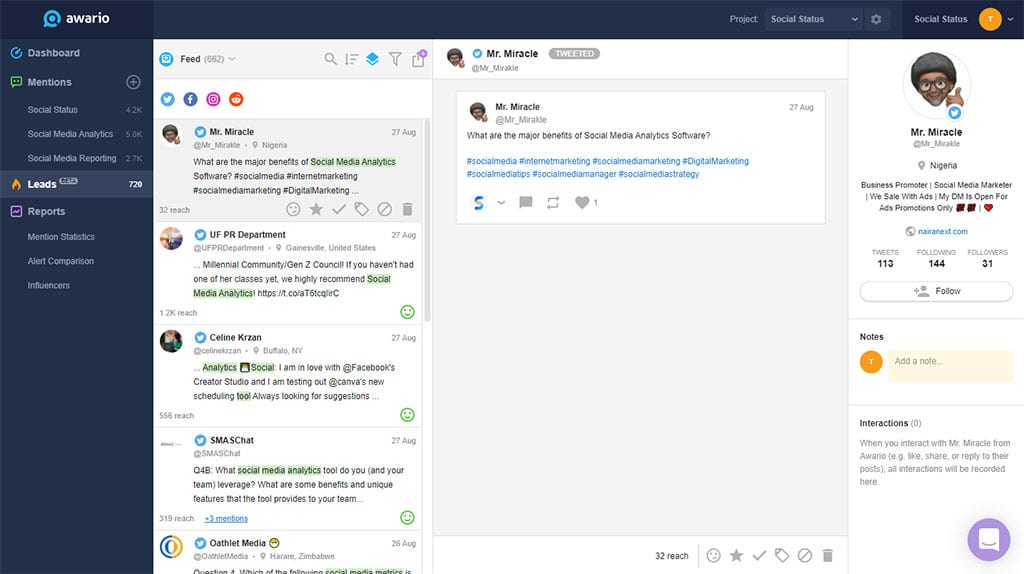 GoVisually
For marketers in agencies or working in a team, GoVisually is a great platform for managing reviews and approvals on designs. Managing feedback on design elements is always hard over email or over the phone / Zoom. The great thing about GoVisually is it lets you upload your designs to a shared board where your team members can annotate on top of design elements and handle rounds of amends easily and quickly in the one place. They've also got a slick Instagram account worth following too!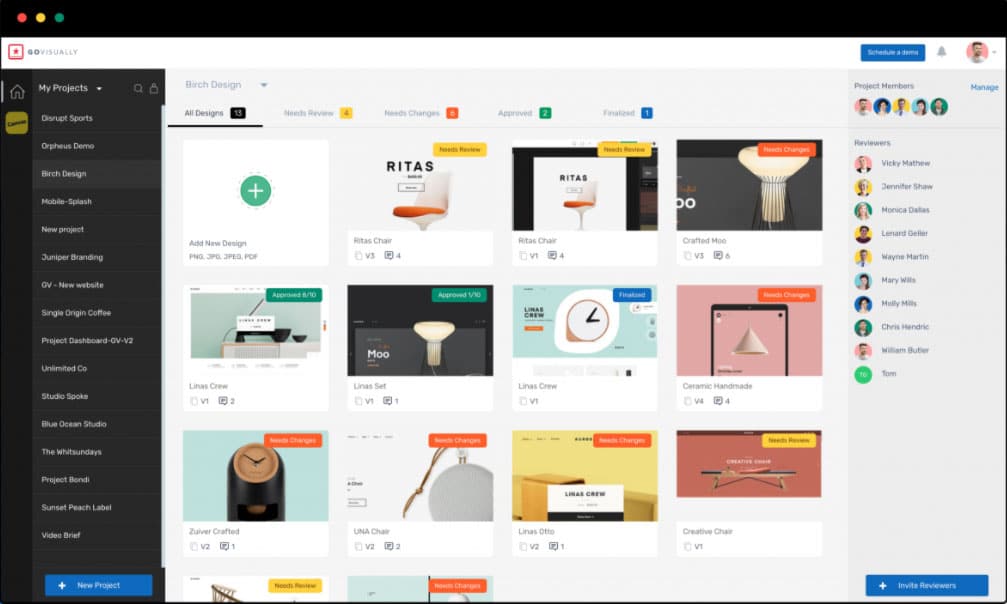 Quuu
Quuu is a handy tool for finding content relevant to your industry and scheduling it on your social media channels. Content recommendations are "hand-curated" by the Quuu team. When you log in you'll see new posts you can republish based on your theme preferences. You can also follow specific blogs via RSS and republish content from these sources too. Quuu integrates with Hootsuite, Buffer and its own scheduling tool SocialChief.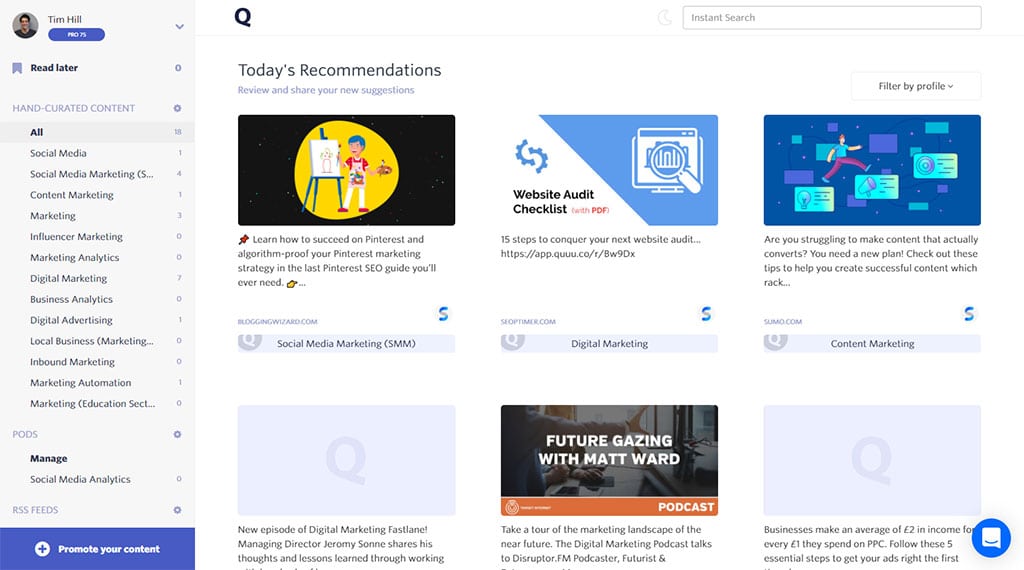 Kapwing
Kapwing is my favorite meme creator! But its more than that, its actually a really flexible video and animated GIF creator. I like their video resizer which lets you easily crop and resize videos to widescreen (16:9), portrait (9:16) or square (1:1) – perfect for all social formats. You can trim videos, combine videos, reverse them, add subtitles and more! They've also just launched a waveform creator for turning podcast audio into waveform videos.
Qwaya
Qwaya is an ad booking and management tool for Facebook and Instagram. Its a full-featured ad tool which enables you to schedule ads and define campaign rules based on how campaigns are tracking. You can create ad templates, run split tests or multivariate tests, rotate ads and more. Qwaya is very-agency friendly too since they have flat fee pricing and don't charge on spend.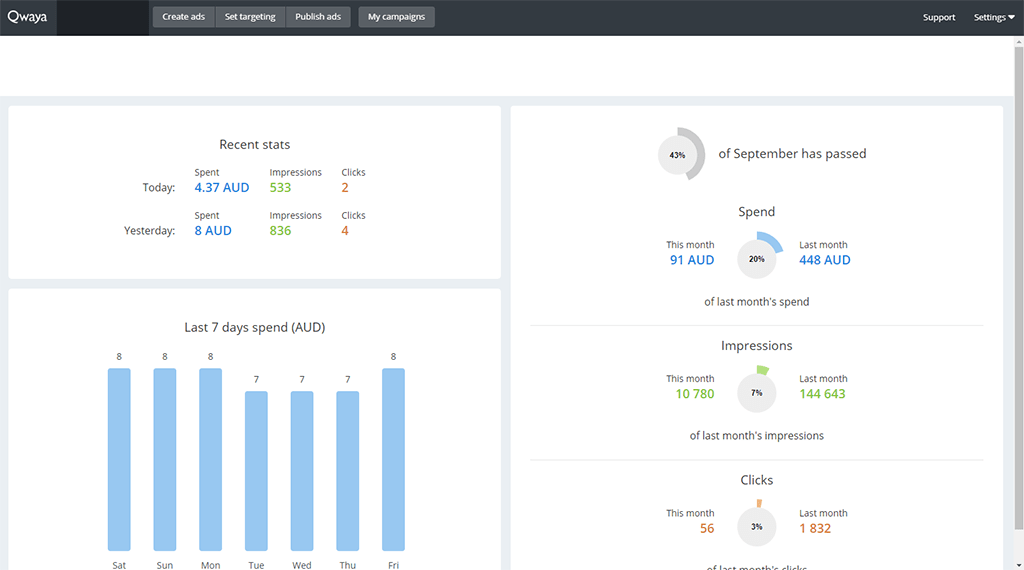 Biteable
Video is generally the best media type for social media because its an engaging format. When you run ads, video tends to outperform static content too. Biteable is a browser-based video maker with over 800,000 stock footage clips and animations. Its super simple to use and after a few clicks you'll be up and running with video content in no time. The free version lets you make videos watermarked and their paid plans start at $19 per month.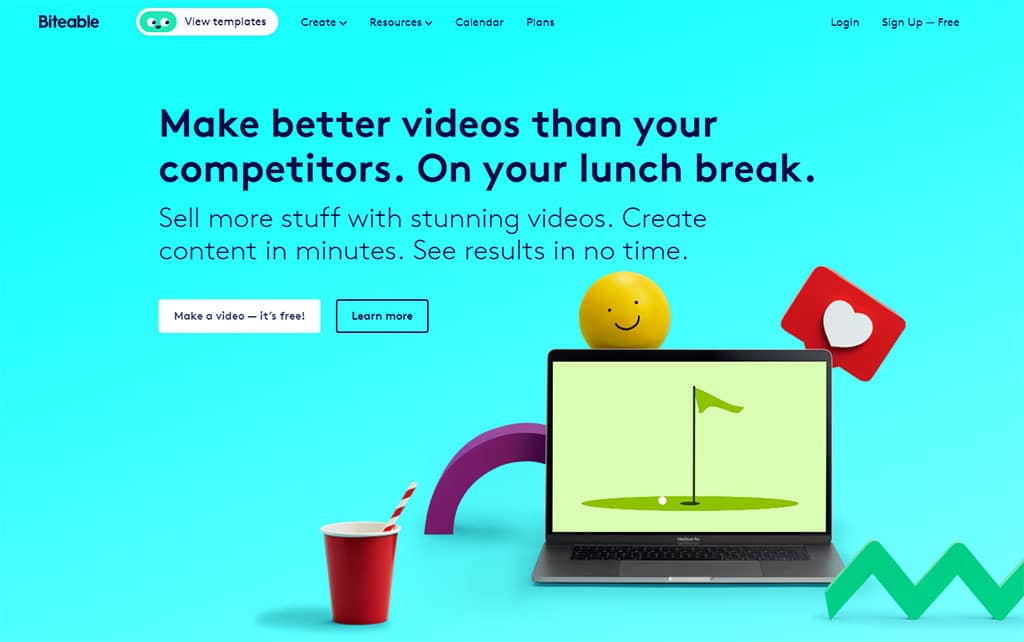 Plann
For Instagram marketers, planning your grid and nailing your brand aesthetic is key. Plann lets you do exactly that. You can upload Instagram creative, rearrange posts, collaborate with your team and schedule all your Instagram posts and Stories from the platform. Switch between calendar view and grid view plus you can also use Plann's built-in filters and overlays to enhance your creative!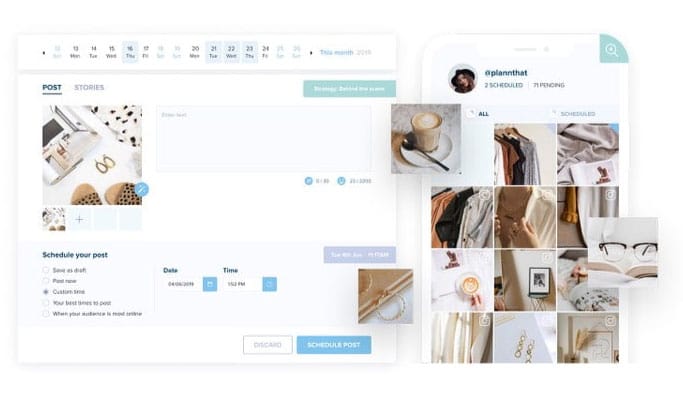 Figma
Figma is probably the most hyped design tool online. And with good reason. Its a pretty amazing browser-based prototype and layout design tool. You can create designed prototypes of app interfaces, websites, pretty much any digital interface. Figma lets you easily collaborate with your team or client and manage revisions all in the one place.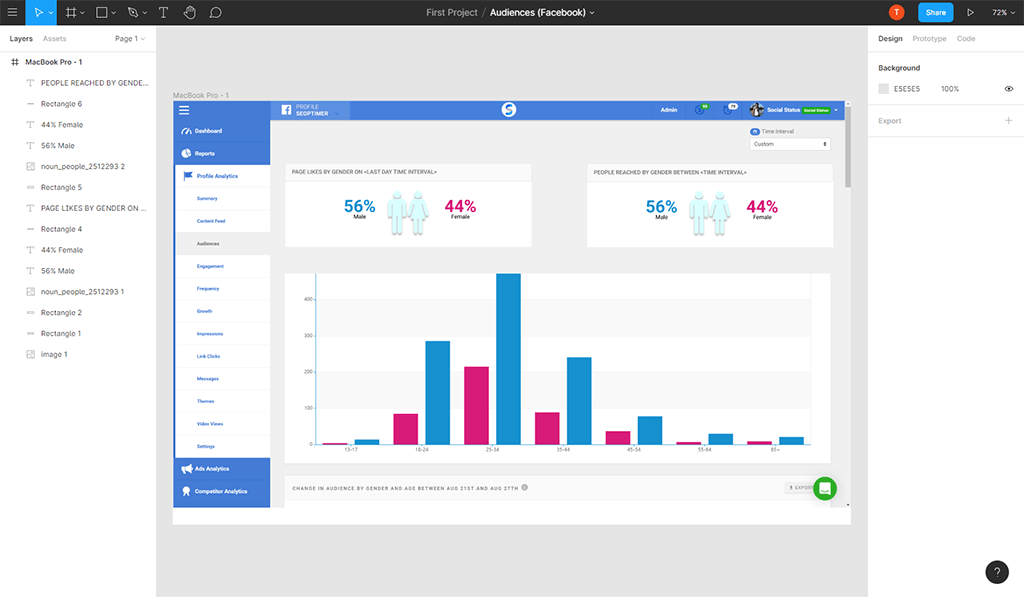 Canva
No list of top digital marketing tools is complete without Canva. The original "photoshop in your browser" tool is loved by millions of devoted users around the world. Canva lets you create template-powered images for social media, presentations, video editing and basically any digital channels. Canva recently launched social media scheduling too which brings them into competition with Hootsuite, Sprout Social and other scheduling tools.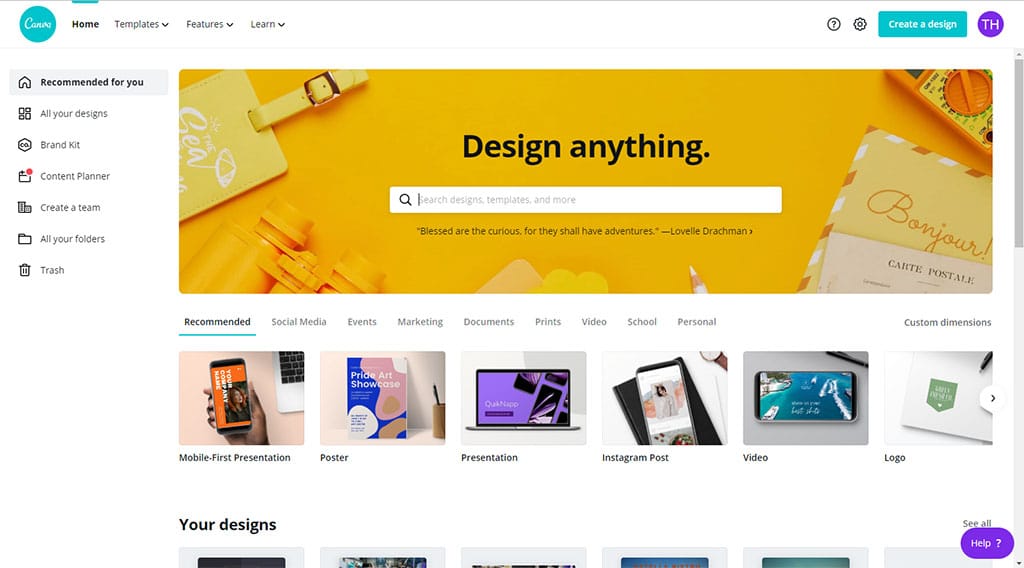 TRIBE
TRIBE is an influencer marketplace which lets brands submit influencer marketing briefs to a community of micro-influencers (TRIBE deems a micro-influencer to have 2,000 followers or more). Once the brief is live, influencers can respond to it and create the content for the campaign. Then its simply a matter of scrolling through the submissions and buying the ones you want!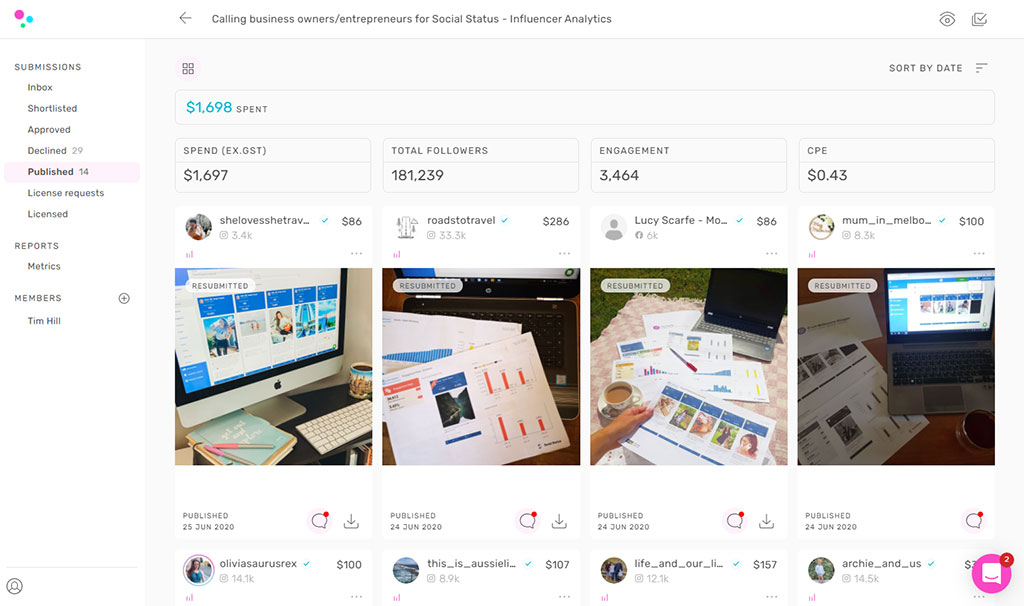 UTM.io
If you use Google Analytics UTM tracking attributes in your URLs, you'll love UTM.io. Half the job with UTMs is being able to use them consistently and correctly without duplicating naming conventions. Most marketers use a spreadsheet to try to track the UTMs they use but UTM.io is so much better because it lets you standardize a consistent framework for all your UTM attributes. You can set up templates, get click analytics and there's a Chrome Extension for creating new links quickly and easily.
Snapseed
This one is perhaps the most under-valued tool. Snapseed is Google's image editing tool for Android and iOS and its really great. But like many of Google's products, it flies under the radar. Snapseed has taken a while to gain popularity but its now considered an indispensable tool for any content creator. Snapseed lets you edit and manipulate photos right on your phone. You can adjust colors, brightness, crop and rotate images – there's also a Photoshop-esque Healing brush which is really nice too.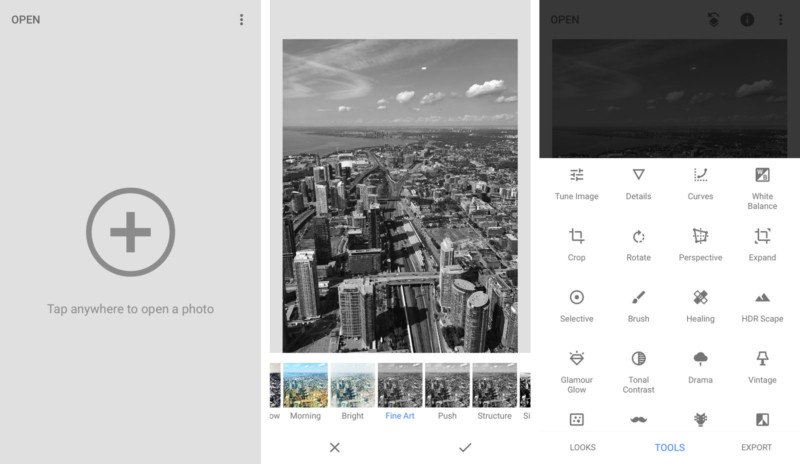 So that's it. I hope you enjoyed reading about these digital marketing tools as much as we enjoyed compiling it. Let us know which tools you find useful in the comments!